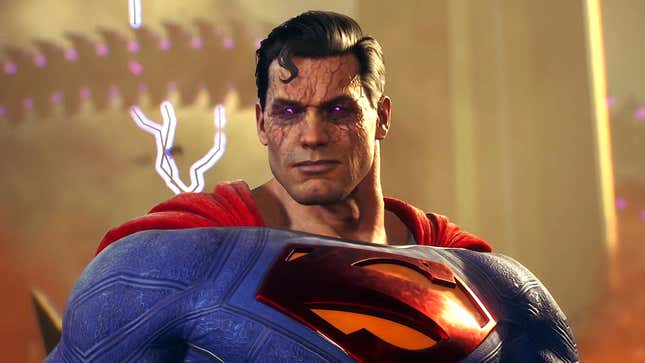 Today, during Sony's very first State of Play of 2023, we got our first big look at one mission in the upcoming Suicide Squad: Kill The Justice League game, out later this year.

Diablo IV Druids, Do This ASAP To Unlock Some Powerful New Abilities
Sony's latest State of Play—Nintendo Direct-like video events—was mostly focused on PS VR2 stuff and third-party games. At the very end of the event WB Games and Rocksteady showed off new gameplay from a previously unseen mission in Suicide Squad.
Along for the ride in this mission are Harley Quinn, Deadshot, King Shark, and Captain Boomerang. The Flash has been corrupted by Brainiac, and they have to stop him to save Lex Luthor. To do this they have to hop around a bunch, shooting a lot of enemies in gameplay that reminded me a lot of Crackdown, though not in a good way.
After all that (and saving Luthor), the corrupted Flash attacks the group but is stopped by Wonder Woman who, wielding her lasso of truth, discovers that, apparently, all the corrupted Justice League members have to die to "Save the world."

Suicide Squad is a live-service looter shooter, it seems
In a second video that followed the gameplay trailer, Rocksteady devs explained that this game is set in the same world as the Arkham games, something we already knew, but specified that it takes place half a decade after Arkham Knight.
Brainiac has taken over the world and Amanda Waller has recruited the Suicide Squad to help her basically save the world from corrupted superheroes. We also got a look at Penguin, who is now a side character who will help the squad in their effort against Brainiac.
The game is set in Metropolis, which the devs say feels very different from Gotham, which was seen in the Arkham games and last year's Gotham Knights. (Though to be clear: Gotham Knights isn't connected to the Arkham games or Suicide Squad.) According to Rocksteady, Metropolis in Suicide Squad is twice the size of the Gotham City found in Batman: Arkham Knight.
We also learned that this game will have various kinds of loot and power levels and yeah...it sounds a lot like one of those live-service games that people are growing more and more tired of. This was rumored since early screenshots of the game leaked and made it appear like another Destiny-like online shooter. And now, that seems to be the case. Rocksteady also confirmed that it will keep updating the game, adding new weapons, playable characters, and a cosmetic-only battle pass, too.
Oh and we also learned that the game will be "Always Online" even when playing solo and will support crossplay and run at 60fps on consoles and PC.
Suicide Squad: Kill The Justice League arrives on May, 26 2023 on PS5, Xbox Series X/S, and PC. Get excited?