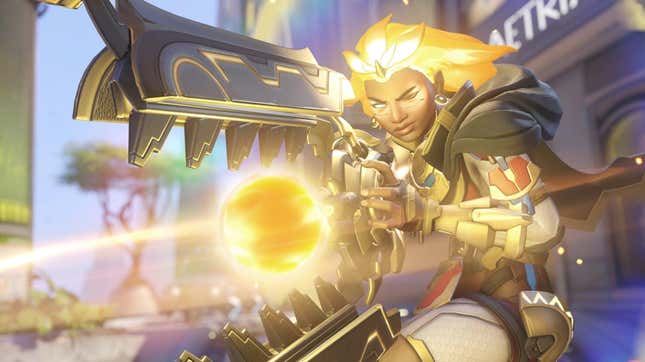 Blizzard added first-person shooter Overwatch 2 to Steam on August 10 alongside its stacked Invasion chapter, and the game is already getting review-bombed to the lowest circles of Hell.
Overwatch 2's New Story Missions: Worth The Money?
The contentious but, relatively, still tremendously popular shooter was previously only available to download for PC on Blizzard's proprietary online shop Battle.net, which does not allow users to leave public comments. The game's unwilted Steam page, then, which went up nearly a decade after the original Overwatch came out in 2016, is getting dirtied by years' worth of unsaid rancor.

Overwatch 2 has, as of writing, over 42,000 reviews lending itself to an "Overwhelmingly Negative" rating ("11 percent of the 42,107 user reviews for this game are positive," Steam offers sheepishly). The most popular review with over 25,000 "helpful" ratings is a declaration that "The people who make Overwatch porn work harder than the people who make Overwatch."
Read More: Overwatch 2's New Content Drop Is Its 'Broadest' Ever, Blizz Says
The few popular positive reviews also commend Overwatch 2 for its porn; "Bad game, good porn," says one well-liked comment. "Buen porno," says another for the bilingual crowd.

OK, yeah, high-def cartoon porn is cool. Whatever. What's wrong with the actual game?

Nothing immediate. Devoted players just really miss what they feel Overwatch used to be—a good shooter that didn't constantly beg for your money with a battle pass. Though Invasion introduces a new support character, PvE mode, a free seasonal event mission, and much more, players are feeling too slighted by its pay-to-play system, which has been mostly lackluster since its 2022 introduction, to care.

"If you like collecting cosmetics, Overwatch 2 expects you to hand over your entire wallet," one negative Steam review with over 13,000 upvotes said. "The game is fun, I still feel the experience I love so much in there, it's just damaged by such intrusive greed I can't recommend it to anyone."

"OW2 is a cash grab—a wicked attempt to generate more revenue on a popular game [Blizzard] made years ago," says another sour Steam review.

Read More: Overwatch 2's Story Missions Are Good, But Not $15 Good

Players are coping by delivering flippant one-liners and dramatic bad reviews. But can you blame them? They just found out that a $72 billion company that allegedly systematically harassed its employees has no scruples about making more money at the cost of consumers' happiness. It's almost unbelievable.