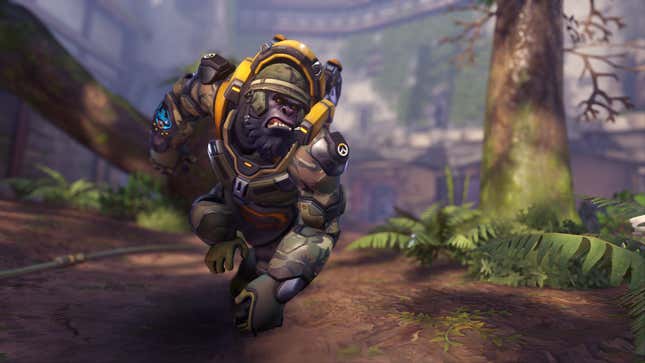 Overwatch 2 is in a rough spot as Blizzard prepares for one of its biggest content drops yet next month. After a collection of bad news since its October 2022 launch, including the gutting of PvE content and charging $15 for story missions, Overwatch 2's engagement and money investment has declined—despite the promise of more content on the horizon.

Overwatch 2's New Story Missions: Worth The Money?
News of this comes from Activision Blizzard's latest earnings report (thanks, IGN), which says that people aren't playing the game or spending money in its store like they were at launch, but the team is hoping that changes with Season 6's big content drop on August 10.
"While engagement and player investment in Overwatch 2 declined sequentially in the quarter, the Overwatch team is looking forward to the August 10 release of Overwatch 2: Invasion. This will be the largest seasonal update yet, planned to include new PVE Story Missions, a new game mode, and a new hero progression system as well as an additional hero."
Decline in player engagement is natural for most games, even popular ones like PUBG. You get a lot of people playing at launch, then the sickos are the ones that stick around long after. But even if a decline in engagement is normal, Overwatch 2 still seems to be struggling right now. While the core game is still strong, everything that surrounds it has been annoying at best and extremely worrisome at worst. Since launch, players have taken issue with the grindy battle pass model replacing loot boxes, expensive cosmetic items, and new heroes locked behind the battle pass. And recent seasonal events haven't felt substantial enough to keep folks around.
Those are just issues within the game—outside of it, Activision Blizzard is laying off people in the Overwatch League, and it looks like the game's esports division may be in trouble.
Because I'm a clown, I still play Overwatch 2 almost daily, have completed every battle pass in each season, and even last night I caved and bought the $20 Lifeweaver Cleric skin. But I'd be lying if I said my enthusiasm for the game hadn't dropped off significantly in recent months. Which is wild to say, because between Overwatch 2's launch and Lifeweaver's announcement, I was probably the most enthralled by the game I'd been in years. Hell, it might've had some issues, but the Pride event was also an example of the clear love Blizzard's team has for this game. It just feels like it's been marred by a lot of bad business decisions the team is still struggling to unravel.
What will be interesting to see is how Overwatch 2's player count changes when the game comes to Steam on August 10. For a long time, Overwatch 2's PC player numbers have been obfuscated by its singular availability on Battle.net, which does not reveal player count. Compare this to Steam, which shows concurrent player numbers, and we might get more sense of what the community looks like. This will, of course, not account for Battle.net players or those on console, but it will be some context for what Overwatch 2 player engagement actually looks like nine months after launch.