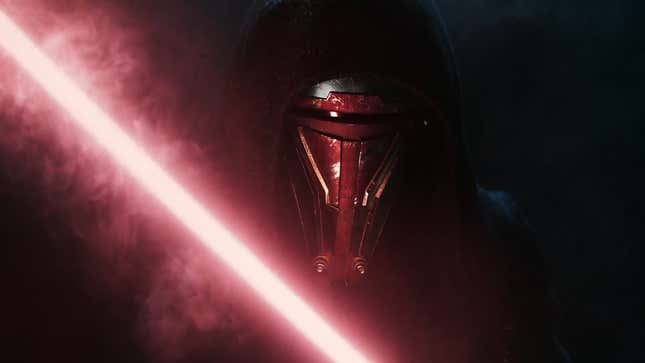 Star Wars: Knights Of The Old Republic is getting a PS5 remake by Aspyr, the studio recently responsible for porting other classic BioWare RPGs to mobile. Holy shit.
This Action Game Asks What If Ninja Gaiden Let Its Hair Down
Here's the short teaser Sony showed during today's PS5 showcase. There's a voice-over, a shadowy figure in a metal mask, and of course a red light saber. Apparently that's all it takes to give me chills these days.
Star Wars: Knights Of The Old Republic was originally released in 2004 as an Xbox exclusive developed by BioWare and published by LucasArts. The game expanded on the Star Wars universe by telling stories about its distant past using RPG mechanics from the Dungeons & Dragons tabletop games. It was amazing then and it still holds up today. Time will tell just how ambitiously the game is overhauled and remade on PS5.
"We're rebuilding it from the ground up with the latest tech to match the groundbreaking standard of innovation established by the original, all while staying true to its revered story," lead producer, Ryan Treadwell, wrote on the PlayStation Blog today. The game will be a PS5 console-exclusive at launch.
Known for porting Star Wars: Knights Of The Old Republic and dozens of other games, Aspyr Media was acquired earlier this year by Embracer Group, the corporate blob that also owns THQ Nordic, Gearbox, and a number of other studios and publishing labels. The KOTOR remake will be Aspyr's first new game.
Despite the above tease, we still know basically nothing about Aspyr's plans to revive a classic that went on to spawn sequels and an entire MMO that is still owned and operated by BioWare. News of the project began leaking out earlier this year on social media and was later confirmed by former Kotaku news editor Jason Schreier on the MinnMax podcast.
There has been speculation that the remake will actually include parts of both KOTOR 1 and 2, and also establish some of the lore from those games in the official Star Wars canon, something Disney seems keen on as it spins Star Wars off into new books, TV shows, movies, and games.