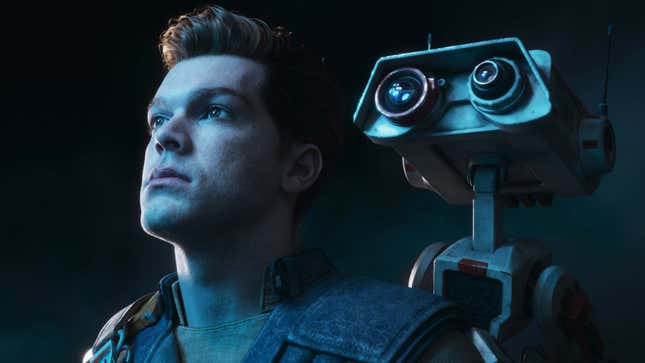 Star Wars Jedi: Survivor, the highly-anticipated sequel to 2019's Star Wars Jedi: Fallen Order was finally revealed today via a new teaser trailer during Star Wars Celebration. It will be released in 2023 for PC, PS5, and Xbox Series X/S.

In Dune: Spice Wars The Spice Must Flow But Remember To Hydrate
While we knew a sequel was in the works, this is the first time EA and Lucasfilm have confirmed the rumored name, which leaked earlier this year.
In the short teaser (above) announcing the game's 2023 release window and title, we see Cal speaking to what appears to be a Pau'an man who also appears to be holding Kestis' lightsaber from the previous game in a case. We also see the Jedi and his adorable droid looking at a bacta tank that contains someone, but the trailer doesn't say who. Take your guesses now!
Star Wars Jedi: Survivor is the follow-up to Respawn's 2019 third-person action-adventure Star Wars game, Fallen Order. Like that game, this new sequel stars Cal Kestis, a former Jedi who is on the run from the Empire alongside a ragtag group of misfits and outsiders. Y'know, classic Star Wars stuff.
The newly announced sequel is being led once again by former God of War director Stig Asmussen and a press release sent over by EA confirmed the game will be a PS5/Xbox Series X/S only release. Sorry, PS4 and Xbox One owners.
Here's how EA describes the game via its press release:
Star Wars Jedi: Survivor picks up five years after the events of Jedi: Fallen Order. Cal must stay one step ahead of the Empire's constant pursuit as he begins to feel the weight of being one of the last remaining Jedi in the galaxy.

Accompanied by his trusty companion BD-1, Cal will meet and ally himself with an array of unique and interesting characters on his journey. Jedi: Survivor will expand on the series' dynamic combat in new and innovative ways. In order to survive, Cal must learn new skills and grow his connection with the Force."
Star Wars Jedi: Survivor will be released sometime next year for PS5, Xbox Series X/S, and PC. It is just one of many upcoming Star Wars games planned to release over the next few years.