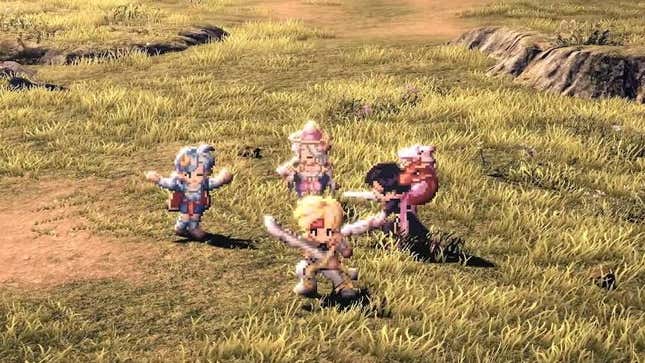 Star Ocean: The Second Story was originally released on PlayStation back in 1999. Now it's back by way of a 2.5D remaster in the style of Octopath Traveler and Triangle Strategy. It's a revival that the best game in an uneven and often overlooked sci-fi RPG series deserves.

This New Fantasy Beat 'Em Up Is Like Dragon's Crown With Druids
Coming to PlayStation 5/4 and Nintendo Switch on November 2 (with a physical edition), Star Ocean: Second Story R is a graphical overhaul of the 40-hour epic about a Star Trek-like space cadet trapped on an alien planet that's about to be destroyed by another planet. It appears to be a scene for scene replica, but with a 2.5D presentation that casts the pixel art sprites against 3D environments. Beautiful character portraits also now accompany every conversation, of which the game has thousands.
It seems like the voice performances might be new as well, rather than being borrowed from the PlayStation Portable port of the game. Square Enix also hints at a new "Breaking" battle mechanic where players can stagger enemies to deal extra damage in follow-up all-out assaults.
The Star Ocean series is known for its dual protagonists and branching character paths, with players deciding who to recruit and who to forgo as relationships are deepened through side quests and optional dialogue scenes. The Second Story in particular boasted dozens of different endings, and while some only had minor differences, a few demonstrated meaningful consequences based on your decisions in the game.
But more than anything else, Star Ocean 2 had the best balance of sprawling RPG plots, frenetic real-time combat, and granular crafting systems. Toward the end of the game you can turn your roster into an eight-piece orchestra to summon a super powerful side boss. The games became more unwieldy as the series continued, perhaps due to a combination of dwindling resources and higher expectations as graphical fidelity on new consoles improved.
The most recent game, last year's Star Ocean: The Divine Force, was actually mostly fine, a drastic improvement from the prior couple of games even if it might not ultimately be enough to compete with Square Enix's other juggernaut RPG franchises. And that's fine. I'd rather have a beautiful 2.5D overhaul of the best game in the series anyway.