Deus Ex is one of gaming's all-time greats, but let's be real: 2000 was a long time ago. Some parts of the game—like, say the visuals—don't really hold up, which is where the fan-developed Revision project is stepping in. The strangest part? Square Enix, who owns the Deus Ex series these days, is totally on board.
Elden Ring's Top Five Spells, According To FromSoftWare's Stats
Revision, which went live on Steam a few hours ago, is more than just a set of new textures, but holy cow, it has that:
That's a huge difference. It's not quite Deus Ex: Human Revolution, but for a game released 15 years ago, Deus Ex isn't looking too shabby now. And if the upcoming sequel has you interested in where it came from, it's waaaay easier on the eyes.
Revision doesn't cost a dime, but you'll need to own a copy of Deus Ex. It's only $1.39 for the next few days, so I'm not exactly sure what you're waiting for.
G/O Media may get a commission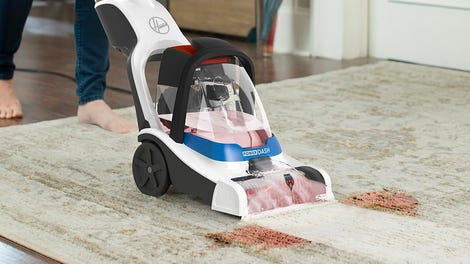 26% Off
Hoover PowerDash Pet Compact Carpet Cleaner
It's not only a visual upgrade, either. Revision has a bunch of different mods, such as Human Renovation, which fixed glitches, re-balanced augmentations, modified the AI of various NPCs, and a whole bunch more. Fans have been slowly improving and tweaking Deus Ex for a number of years, but if you've been afraid to download a bunch of random mods, Revision is your catch all solution.
For a while, there was some concern Revision might get some heat from Square Enix, which prompted the developers to straight up approach them about it:
All of this lead us to feel extremely cautious- we want to ensure that when we release, there are no potential land mines waiting for us. So we approached Square Enix with the intent of making sure that everything we had planned was going to be fine. They've been very helpful and supportive; the processes has gone on longer than anyone anticipated, and we're taking advantage of the time to implement little fixes and bits of polish that were otherwise slated for the 1.1 update. On the one hand, we would love to get Revision out the door ASAP. On the other, we're committed to making sure that we can release it and maintain it in the best possible way, and with as few stumbles as possible.
The result was not only Square Enix giving it the thumbs up, but issuing a press release today about Revision's release and prompting a Deus Ex sale on Steam:
Today Square Enix and Eidos-Montréal continue to celebrate the 15th anniversary of the release of the original Deus Ex® by authorizing a fan-created mod for the first Deus Ex game originally released in 2000. Called 'Revision', the mod by Caustic Creative overhauls the environments and soundtrack of the original Deus Ex and is available to download for free today on Steam®.
Kinda bizarre, right? This is a company that's known for putting the kibosh on fan projects, so watching them embrace Revision is really fantastic to see.
I booted up Revision this afternoon, and was impressed with how much better it makes Deus Ex look. Depending on the day, either Mega Man 2 or Deus Ex is my favorite game of all-time. Thing is, it's a lot harder to go back and play Deus Ex. Revision can't give me more time to play games, but with Mankind Divided only a few months away, I suspect I'll be digging up Deus Ex again.
If nothing else, this gives me an opportunity to share the rad Deus Ex theme:
So good.
You can reach the author of this post at patrick.klepek@kotaku.com or on Twitter at @patrickklepek.