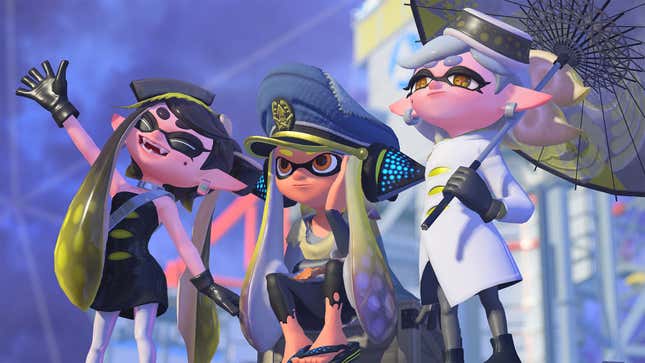 There's no other video game company quite like Nintendo, and the same thing appears to be true about its fans. One reportedly spent roughly $3,500 on company stock to interrupt the most recent shareholders meeting and seemingly rant about the lack of male hairstyle customization options in Splatoon 3. Nintendo president Shunturo Furukawa tried to get him to stop but he kept complaining about the "cold treatment of Splatoon boys."
Trek To Yomi Is The Best Time You'll Never Want To Have Again
The alleged incident was first reported by Twitter user NStyles who live-tweeted the Mario maker's 2023 annual shareholder meeting (as first spotted by SI Video Games). According to a Twitter translation of the play-by-play, the Splatoon 3 fan asked why boys were being disrespected in the game, Furukawa said the question was going on too long, the fan kept going, and eventually the president of Nintendo moved on by thanking the fan for their interest in playing the company's games.
Roughly an hour later, Twitter user Haruikatako claimed responsibility for the outburst in a thread detailing their issues with the game and how he managed to get into the shareholder's meeting in the first place. In addition to a copy of the remarks, he even shared an apparent mock-up showing how male Inklings' customization options were lacking compared to the female ones.
"I've sent letters to Nintendo many times, but he didn't seem to improve," a Twitter translation of the thread reads. "When I bought stocks, I was always short of tens of thousands of dollars, and my parents asked me not to get involved in consumer finance." The fan said he proceeded to resell OLED Switches to try and earn enough to buy the stock needed to snag a spot in the annual meeting.
Outrageous as it is that someone would grind for real world cash just so he could complain in person about a video game, it's especially weird given that Splatoon 3 has the most robust Inkling customization options in the whole series. It's the first to let players mix and match various looks and styles rather than locking certain ones behind specific genders. And I mean, the Inklings are mutated squid kids. I can't even begin to process what it would mean to lack styles specifically coded as boyish in Splatoon 3.
Wild fan stunts aside, the game has continued to get a steady stream of new updates and still has some more major DLC on the way, including new single-player content that will apparently have some new gameplay twists.
Update 6/23/203 11:37 a.m. ET: The incident was first covered by SI Video Games, rather than VGC.