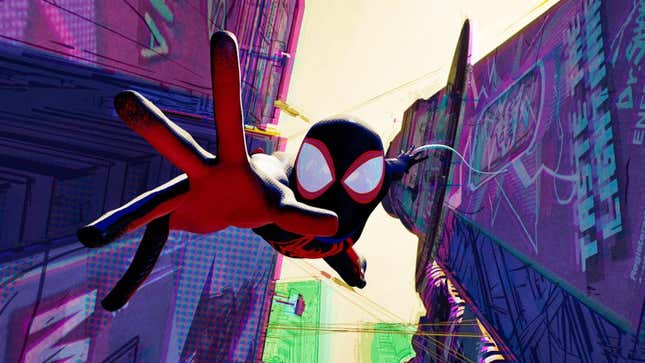 Spider-Man: Across the Spider-Verse came out on June 2 to rave reviews and a box office weekend that trailed only The Super Mario Bros. Movie to become the second-largest of 2023 so far. There's only one thing holding the movie back apparently: people can't hear what the hell characters are saying sometimes.
Across the Spider-Verse sports an all-star soundtrack with guest appearances by James Blake, Lil Uzi Vert, Future, 2 Chainz, and many more. And as an animated superhero movie, it's full of wild sound effects, frenetic action scenes, and an original score that pusles through almost every scene. Unfortunately, it seems like the sound mixing for the movie is washing out the actual dialogue in some scenes.
Plenty of opening weekend fans lamented they couldn't make out what was being said, beginning with the start of the movie when Gwen Stacy provides voice-over narration as she drums (via IGN). "Everyone is complaining about the poor dialogue audio in Spider-Man: Across The Spider-Verse!" tweeted film-goer mr3film, alongside a round-up of feedback from Reddit. "It was a problem for me watching it in IMAX, too."
The issue appears to be nationwide, though some viewers report it was worse in certain showings and theaters. "Something I truly admire about this movie is how well the writers and voice actors did when it came to the in fight commentary/banter," wrote one person on the Marvel subreddit. "I literally didn't hear shit during those scenes," another wrote back. "The music wasn't even that loud, the vocals were just so low in my showing."
Some of Kotaku's own staff writers saw the movie this past weekend and had similar takeaways. "Everyone at our theater complained about sound mixing. Characters were hard to hear at times," Zack Zwiezen told me. "One of the few times I would've liked subtitles in a theater," added Kenneth Shepard.
Funny enough, Across the Spider-Verse producer Phil Lord tweeted a picture on June 1 of special cards he planned to send every theater projectionist who played the movie at "full volume." "If you get to the theater early and you want a fun mission ask someone to check that the theater volume is set at reference (7)!" he added a day later. "If it sounds a bit quiet, invite them to turn it up a touch to 7.5! If they give you flack... tell them we said it was okay."
It's not clear if that would fix the issues viewers are experiencing in every case, or just exacerbate them. But it sounds like missed dialogue and bad sound mixing in some theaters wasn't enough to ruin the experience for anyone. Across the Spider-Verse currently sits at 96 percent on Rotten Tomatoes.
Update 06/09/2023 6:35 p.m. ET: Variety reports that updated versions of the film are being sent out to theaters. Sources close to the film claim that while Sony believes the sound issues affected only "a handful of theaters" the company is still replacing "all the prints" of Across the Spider-Verse. A source further added that it's not that odd for a film's distributor to send out changed or tweaked prints, "if the opportunity presents itself."
A great (and more drastic) example of this happened in 2019, when Universal basically patched the live-action Cats film, fixing some of the unfinished or ugly CG evident in the film when it first hit theaters in December of that year.
  .