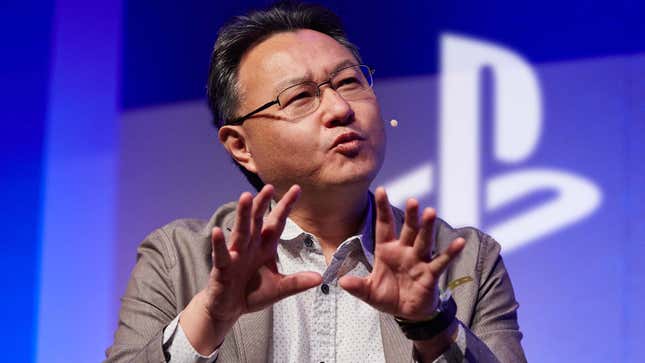 In a new interview published Monday, PlayStation's Shuhei Yoshida talked about how difficult and expensive it is to make video games, explaining that the company behind hits like God of War and The Last of Us cancels "so many games" in order to "save" developers from getting stuck on something.
Hollow Knight: Silksong's New Gameplay Trailer Is Living Rent-Free In Our Brains
From 2008 to 2019, Yoshida was the president of Sony Interactive Entertainment. He stepped down from that role in 2019 amid a company reshuffle and former Guerrilla Games boss Herman Hulst took over as president while Yoshida focused on helping external developers on new projects as head of SIE's Independent Developer Initiative. While he might not be running the ship anymore, he's still involved with video game development at Sony and its studios. And as part of the process, Yoshida says a lot of game projects get canned before seeing the light of day.

Yoshida recently told The Guardian that while PlayStation "embraces new ideas," many of them fail. That's just part of the job, and in order to see what works and what doesn't, he explained that the company does a lot of testing and prototyping.
"We do a prototype, we evaluate, we decide whether to spend more time and resources, or we just stop," Yoshida said. "We cancel so many games."
While this might sound harsh or cruel, Yoshida says he has to "convince" studios and developers to move or stop in order to "save" these devs from getting "stuck" on projects or games that just aren't working out,
"We tend to work with people who have very strong ideas, we love these people, so trying to change or stop their project is so hard," Yoshida said. "It's all about talent in this industry. I have tried to help them as much as I could."
Making games is more expensive and riskier than ever
As pointed out by The Guardian, it has become harder and more expensive to make video games in 2023 compared to back in the '90s or early '00s. In 2010 God of War III, a "AAA"-tier game from Sony, cost about $44 million to create. In 2022, the latest God of War entry, Ragnarök, cost about $200 million. So it's riskier than ever to take chances and canceling projects, while painful for those involved, can often save studios and publishers a lot of money and future pain.
However, Yoshida still wants Sony and other developers to take these creative risks instead of the industry becoming dominated by live-service games like Fortnite.

"The industry keeps growing and growing, and I hope it keeps supporting and chasing creative ideas and people who try to work on new things," Yoshida said. "You don't want to see the Top 10 games every year being almost the same, all games becoming service games…That would be a bit boring, for me."

I guess nobody at Sony has told Yoshida what Sony has planned for Destiny 2 developer Bungie.