Frosty, The Snow-Men | Employees from Halo studio 343 Industries took a snow day yesterday in Seattle's Eastlake neighborhood.
---
What's happened in the business of video games this past week ...
QUOTE | "PlayStation 4 must look beyond games."-Chris Morris, veteran game journalist, on what Sony should and shouldn't do with the PS4.
G/O Media may get a commission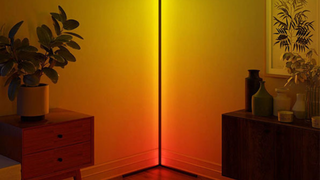 Save 60%
Minimalist LED Corner Floor Lamp
---
You're on a first date. It's going pretty well. You've had a good time talking, you're both laughing a lot. You're feeling the vibe.
Ordinarily, video games probably wouldn't enter into the equation here. More »
---
The Entertainment Software Association no longer supports the Stop Online Piracy Act, the controversial anti-piracy bill that was shelved earlier today in the House of Representatives after a week of fierce online protests.
The people who bring us E3 simply don't want to bring us SOPA anymore. More »
---
The Stop Online Piracy Act continues to fizzle and is for all intents and purposes dead. Congressman Lamar Smith, who wrote the law and staunchly defended it for weeks amid protests that it would disrupt online speech, announced today he is postponing any further action on the bill: More »
---
Considering how many gaming apps are published each week in a mobile gaming gold rush that shows no signs of slowing, finding one that is simply average feels almost like a win. More »
---
Mass Effect 3 won't just bring Commander Shepard to Earth. He/She is going to Mars. Briefly, according to series writer Mac Walters, during an interview last night with Game Trailers TV's Geoff Keighley.
Check out a short glimpse of ME3's Mars action in the video below, which contains the entire... More »
---
---
We like tips!
Got tips for our editors? Want to show the world your latest creation? Ready to anonymously share an unannounced game? Email us at tips@kotaku.com. Or leave us an anonymous voicemail at (612) 568-2581.
Want a different layout?
Click here for the Speak Up or Tips forums. Want a more "blog-like" look? Click the button up top next to "Top Stories."
Want to just read about video games?
Try KotakuCore and you'll get news and opinion about video games minus our coverage of gaming culture and the cultures with which gaming intersects.
Get more Kotaku!
Want even more Kotaku? Want to know which of your friends read us? "Like" us on Facebook and follow us on Twitter.