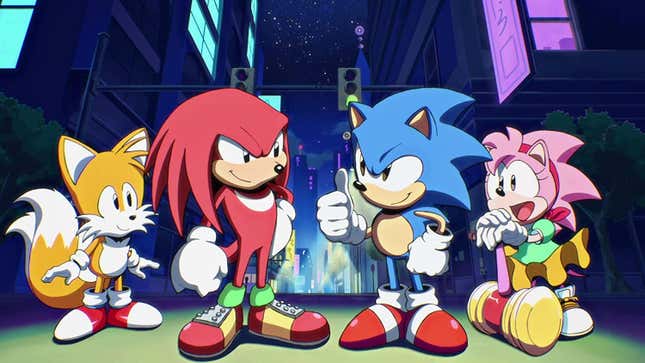 Over 140 workers at Sega of America's Irvine, California office have announced plans to form a new union to fight for better pay, adequate staffing, and more balanced schedules. It's the latest front in the video game industry's growing unionization movement, and the first to move its focus beyond strictly game developers.
Sonic Prime's Lead Voice Actor On Bringing Swagger To The Iconic Role
Update 7/10/2023 2:52 p.m. ET: A plurality of over 200 Sega of America workers successfully voted to unionize in an election by the National Labor Relations Board. There were 91 "yes" votes, 19 challenged ballots, three void ballots, and only 26 "no" votes.
That makes AEGIS-CWA one of the largest unions yet in the video game industry, and one of the most diverse, made up various disciplines including marketing, public relations, and community management. The group will now prepare to bargain on its first contract with Sega on issues like pay, overtime, and promotion opportunities.
Original story follows.
As first reported by The Verge, the group is forming its union with the Communications Workers of America (CWA) and has already filed a petition for an election with the National Labor Relations Board (NLRB), though it's calling on Sega to voluntarily recognize it. The news comes just a week after leftist content creator the_swoletariat_ released a TikTok showing Sonic educating people on how to unionize fast.
"By creating our union, AEGIS-CWA, we'll have a say in the decisions that shape our working conditions and ensure the job security and working conditions we deserve," Mohammad Saman, a quality assurance lead at Sega, said in a press release. "We're excited to protect what already makes Sega great, and help build an even stronger company, together."
The home of Sonic the Hedgehog, the Japanese publisher is also responsible for beloved franchises like Yakuza and Persona, with its Sega of America branch responsible for helping test, localize, and market games for audiences in the Americas. In addition to QA testers, the proposed union will also include employees in community management, product development, and brand marketing roles, making it potentially one of the most organizationally diverse units so far if the bid is successful.
QA testers at the Call of Duty studio Raven Software were the first to unionize at a major game publisher, followed by testers at BioWare, Blizzard, and Bethesda. Developers at Proletariat Studio previously tried to unionize everyone at the studio outside of management but were ultimately unsuccessful. Disagreement between the staff there demonstrated just how hard it can be to organize larger groups of workers from separate departments.
So far, Microsoft has been the only company to voluntarily recognize unionizing gaming industry workers, following a promise it made to the CWA in exchange for union support for its acquisition of Activision Blizzard. The CWA is calling on Sega to sign onto a similar pledge of neutrality when it comes to union activity. The publisher didn't immediately respond to a request for comment.
"I really hope that management recognizes that we're not doing this out of any sort of antagonism," Torie Winkler, a senior community manager at the game publisher, told The Verge. "We are doing this because we respect our coworkers and we want to be able to make a sustainable workplace."
Update 4/26/2023 1:47 p.m. ET: Sega of America President and COO Ian Curran finally acknowledged the union drive in an email to staff on Wednesday, Axios' Stephen Totilo reported. "Union matters are new to me," he wrote, but said no employee would be treated any differently if they supported organizing. He did not say the company would voluntarily recognize the union, however, meaning a secret ballot with the NLRB will likely be forced instead.