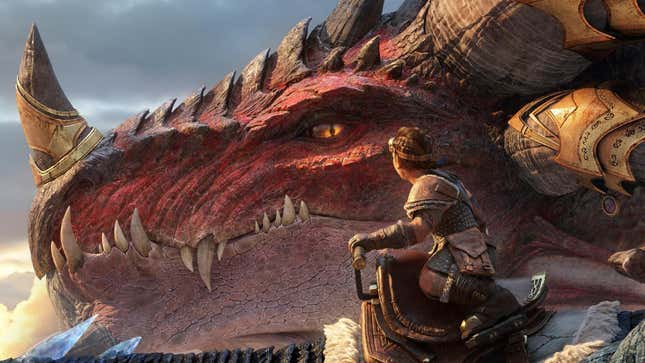 Workers at Proletariat Studio, also known as Blizzard Boston, won't be unionizing after all. The Communications Workers of America Union announced on Tuesday that it will pull its petition for a union election, and blames Proletariat CEO Seth Sivak for treating workers' organizing efforts as a personal betrayal and holding a series of meetings to undermine them.
This Mini Sega Arcade Cabinet Packed With Retro Games Would Make A Great Gift
"CWA has withdrawn its request for a representation election at Activision Blizzard's Proletariat studio," a spokesperson wrote in a press release. "Unfortunately, Proletariat CEO Seth Sivak chose to follow Activision Blizzard's lead and responded to the workers' desire to form a union with confrontational tactics. Like many founders, he took the workers' concerns as a personal attack and held a series of meetings that demoralized and disempowered the group, making a free and fair election impossible."
A spokesperson for Activision Blizzard called these allegations false and said Sivak was simply defending his employees rights to express their opinion on unionization in an anonymous vote. "We appreciate that the CWA has unilaterally decided to withdraw its petition in response to employee feedback," media relations VP Joe Christinat told Kotaku in an email. "As we've stated, we welcomed the opportunity for each employee to safely express their preferences through a confidential vote. Our team at Proletariat does extraordinary work every day. They remain focused on working with their teams to continue to make Proletariat a place where all can grow, thrive, and be part of an amazing team and culture."
Workers at Proletariat, which were organizing with CWA under the name Proletariat Workers Alliance, would have been the third union within Activision Blizzard if their bid was successful. The group announced their intentions last month, claiming a supermajority had already signed union cards in support. After Activision Blizzard refused to voluntarily recognize the union, however, an election with the National Labor Relations board was required. It now appears CWA and Proletariat Workers Alliance don't feel they have the necessary support to win a majority vote.
The groups claim that's at least in part due to meetings held by Sivak aimed at undermining their efforts. "Unfortunately, our CEO responded by holding meetings which framed the conversation as a personal betrayal, instead [of] respecting our right to join together to protect ourselves and have a seat at the table, especially after Activision Blizzard acquired Proletariat," Proletariat software engineer, Dustin Yost, said in a statement. "Those meetings took their toll."
Oddly, despite these accusations, CWA does not appear to be pursuing any union busting charges with the NLRB in this instance. That's in stark contrast to other union fights at places like Starbucks and Amazon where accusations of interference by management precipitated high-profile legal challenges. CWA has also pursued union busting charges against Activision Blizzard in the past.
Proletariat was founded by Sivak and four others after Zynga closed its Boston studio in 2012. It was funded by venture capital to work on mobile games before later pivoting to console releases with free-to-play shooter Spellbreak. It was then acquired by Activision Blizzard last summer to work on World of Warcraft, beginning with the recently released Dragonflight expansion.
Unlike the company's Raven Software and Blizzard Albany studios, whose quality assurance departments successfully unionized last year, Proletariat workers were attempting to unionize the entire studio, including all developers outside of those in senior management roles. That was a much more ambitious effort, and it's unclear how much disagreements over who would ultimately be included in the proposed bargaining unit contributed to the effort's unraveling. Axios also previously reported that some current employees felt the union push had happened too quickly.
"While we are withdrawing our union election petition today, and truly hope that management will prioritize the concerns that led us to organize, I still believe that a union is the best way for workers in our industry to ensure our voices are being heard," Yost said.
Update 1/25/23 5:57 p.m. ET: More devs at Proletariat spoke up on Twitter today pushing back on the CWA's statement and pointing to a complex series of disagreements within the studio over the unionization push.
Artist Kat Donlan told Axios the villainizing of Sivak was "laughably fabricated" and the studio's meetings on the subject were "neutral and supportive." She continued on Twitter, "I'm pro-labor, and I wanted a vote because the OC was not transparent with us. It's hard to work together with your peers when the CWA is fanning the flames they lit."
Meanwhile, art director Damon Iannuzzelli laid out his version of events in a long thread, describing disagreements over which employees would be included or excluded from the union, and said some staff "didn't like CWA's adversarial communication tactics that publicly attacked coworkers and the studio's reputation."

Yost also weighed in, tweeting that some nuance was missing from the original statement provided via the CWA, and that the Proletariat team is "full of folks with very complex PoVs."
Update 1/24/23 3:50 p.m. ET: Added statement from Activision Blizzard.
Update 1/24/23 4:27 p.m. ET: Added further clarification from Activision Blizzard.