Nintendo eShop credit doesn't go on sale often, so if you own a Wii U or 3DS, here's a great chance to save 10% on games and DLC. [10% off Nintendo eShop Cards]
---
Own an Xbox? Live doesn't really get cheaper than this very often, so stock up now. [Xbox LIVE 12 Month Gold Membership Card, $40]
---
G/O Media may get a commission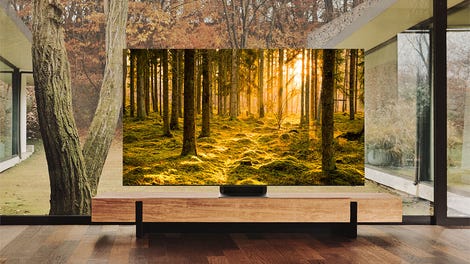 Up to 40% off
Samsung Smart TVs
You may not have heard much about the Corsair Vengeance K65 mechanical gaming keyboard, but it's pretty unique in that it's tenkeyless, which is great for traveling or small desk spaces. [Corsair Vengeance K65 Compact Mechanical Gaming Keyboard, $80]
---
Whether you want to learn a new programming language, get lost in a space opera, or brush up on your WWII history, Amazon's got something for you today in a massive Kindle ebook sale.
We've added some links below to help you sort through the deluge, but there are over 400 options to choose from across a huge swath of genres. Leave a comment if you spot something particularly good. [ Amazon]
Note: Some of these links don't seem to be working on mobile devices. If you're having trouble from your phone, use the first link to see all the books on sale.
---
The 25th anniversary Blu-ray of Ghost In The Shell is down near it's price low today. [Ghost in the Shell 25th Anniversary, $13]
---
The HGST Touro is one of the only 7200 RPM external hard drives out there, and the 1TB model is only $60 today, which is as cheap as we've ever seen it.
If you own an Xbox One, this drive can seriously cut your games' load times vs. the internal hard drive, but any computer user who wants a little extra speed will appreciate it. [HGST Touro S 1TB Hard Drive, $60 with code EMCAKKP43]
---
Want to play GTA V in 4K (whenever it comes out for PC)? This Samsung monitor runs at 60Hz, and is down to $500 today. [Samsung 28"4K Monitor, $500]
---
As long as you don't mind doing a little work in the form of a mail-in rebate, this is a great deal on a solid gaming mouse. [Gigabyte Laser Gaming Mouse, $31 after $10 rebate]
---
Unfortunately, this deal is last-gen only, but Amazon is knocking $20 off the price of Far Cry 4 today, [Far Cry 4 [PS3/360], $40]
---
Today on Amazon, you can preorder The Zero Theorem (starring Christoph Waltz!) for just $15, complete with preorder price guarantee in case it goes any lower. Curious what it's all about? io9 interviewed director Terry Gilliam about the film back in September.
---
We've found a ton of external battery pack deals today, from the enormous to the pocketable.
---
If you own an older car with an AUX jack and no Bluetooth, you can add hands-free calling and wireless music streaming today for just $23. If you have a really old car that doesn't even have an AUX jack, you could rig this thing with a cassette tape adapter for the same effect. [LOFTEK Ultra-portable Bluetooth 4.0 Audio Music Receiver Hands Free Car Kit, $23 with promo code VDMRM2TU]
---
These charging hubs are great for traveling, your night stand, or your desk. Really, you should have one everywhere. [Aukey 5-Port 40W USB Charging Station Wall Charger, $17 with promo code KVOTROBN]
---
The must-own Cowboy Bebop Complete Series Blu-ray has dropped to a must-buy price level. It's listed as temporarily out of stock, but you can still lock in the special price. [Cowboy Bebop, $34]
---
For all of Unity's flaws, there was a good Assassin's Creed game released this year; it just happened to be for last-gen consoles. Half off today. [Assassin's Creed Rogue [PS3/360], $30]
---
Vita Memory Cards are by far our most requested deal, so stock up. These aren't all-time best deals, but they're both on the low-end of their price ranges.
---
Big Hero 6 was one of the year's best movies, and you can lock in your preorder right now for $20. [preorder Big Hero 6, $20]
---
One can never have too many Lightning cables. [ MFi Certified Lightning Cable, $8 with promo code HE7YOXF4]
---
Head over to Kinja Co-Op and nominate your favorite pair of touchscreen gloves.
---
We're in the process of ramping up our Facebook content, and we'd love if you liked us and told your friends to do the same. We promise to put things that you actually want to see in your news feed.
---
Gaming
---
Peripherals
PC
Xbox One
PlayStation 3
Xbox 360
Wii U
3DS
Toys
---
Media
---
Movies & TV
Books & Magazines
Apps
Music
---
Tech
---
Storage
Power
Headphones
Home Theater
Computers & Accessories
PC Parts
Phones and Tablets
---
Inventory
---
Find more deals over on Kinja Deals
Home
Kitchen
---
We work together with you to find the best products and the best deals on them, click here to learn more. We operate independently of Editorial and Advertising, and if you take advantage of an item we cover, we may get a small share of the sale. We want your feedback.