ESPN, citing multiple unnamed sources, says 2K Sports is pursuing basketball's greatest player ever, Michael Jordan, for the cover of NBA 2K11 and may have plans to feature him as a playable character in the game.
Jon Robinson, ESPN's sports gaming columnist, adds that he's "heard whispers" that 2K has been in negotiations with Jordan's teammates and opponents to appear in NBA 2K11. That fuels speculation that Jordan will be playable in the game, at least in recreated his iconic career moments - such as his 44 points and game-winning jumper against Cleveland in the first round of the 1989 playoffs, or the shoulder-shrugging 35-point first-half performance against Portland in the 1992 NBA Finals. Or berating Kwame Brown during practice in his second comeback with the Washington Wizards.
Robinson also notes that, if Jordan does make the cover, it'll be the first time any team executive has appeared on the cover of a sports video game. Jordan is the majority owner of the Charlotte Bobcats.
I emailed 2K Sports who, understandably, hasn't answered the request for comment. It's a good bet more on this will be known at E3 next month.
Though up-and-comers like Derrick Rose and Tyreke Evans have been rumored for the slot, 2K's cover decision might be motivated by the publisher's need to outdo itself. Last year's NBA 2K10 featured Kobe Bryant. There's only one player to go to if you're trying to top Bryant, after a championship year no less, and if LeBron James said no thanks, only a hall-of-famer like Jordan would represent a step up. 2K Sports has spared little expense or effort to defend its marquee title's top-of-the-heap status, so pursuing Jordan would be very much in character for them.
G/O Media may get a commission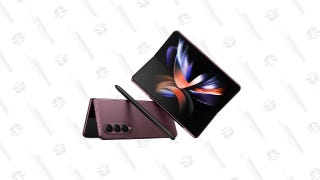 Save Up to $300
Galaxy Z Fold4
But when I heard 2K was considering an awesome dunker with ties to Charlotte's NBA franchise, I thought they were gonna stick Rex Chapman on the cover. Still no love for the original Hornets. Sad.

Sources: Michael Jordan to Appear on 'NBA 2K11' Cover [ESPN.com. Image via 2K Sports forums]