In 2016, Razer attempted to take on Microsoft's luxurious Xbox One Elite controller with the $150 Wildcat, an ambitious premium gamepad that fell short of greatness. Now Razer is back with the $160 Wolverine Ultimate, a modular, remappable beast that's one of the best wired Xbox controllers going.

After several years of wired Xbox and PC controllers named after cats, Razer turns to the family Mustelidae for its latest model, and it seems to have paid off. Foregoing the large, grip-dominating logos of its fore-kittens, the Wolverine is a much more modest piece of tech, all black and matte and lovely. Yes, there is strip of Chroma RGB lighting forming a border around the Xbox guide button, but it can be turned off. It's a marked improvement over last year's Wildcat and its garish neon green sticker grips.
The Wolverine is all about configuration and built-in versatility. It's got the standard array of Xbox One controller buttons, but it also has two extra programmable inner shoulder buttons and two pairs of programmable triggers on the underside. Sliders along the back of the controller allow users to adjust the activation depth of the normal triggers and switch from full-press to half press on the fly.
G/O Media may get a commission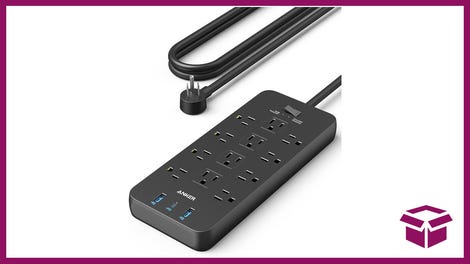 28% Off
Anker Power Strip Surge Protector
Further customization is possible using the extra directional pad and analog sticks included with the unit. The d-pad and sticks attach to the Wolverine magnetically, and pulling a part off and swapping in a new one takes seconds.
It's a very nice gamepad. It's even got its own pouch. Gotta love a dedicated travel pouch.

Razer Wolverine Specs and Features
Remappable 2 multi-function buttons & 4 triggers
Razer Chroma lighting with full 16.8 million color options
Interchangeable d-pad—choice between individual and tilting designs
Interchangeable thumbsticks
Hair-trigger mode with trigger-stop for rapid-fire
Quick control panel
Tactile switch action buttons
Ergonomic non-slip rubber grip
Razer Synapse for Xbox app
Razer Chroma SDK enabled
Play anywhere—play on Xbox One or PC
5 mm audio port for stereo audio output and microphone input
Carrying case
Detachable 3 m / 10 ft lightweight braided fiber cable with Micro-USB connector
Approximate size: 106 mm / 4.17 in (Length) x 156 mm / 6.14 in (Width) x 66 mm / 2.60 in (Height)
Approximate weight (without cable): 260 g / 0.57 lbs
Price: $159.99
The Upside
Nice and Solid: The Wolverine is a well-engineered gaming pad. It's got a nice heft to it, it doesn't rattle, and it feels really nice in the hands, especially those textured grips in back. It's very nice.
The Buttons Feel Great: Not only does each of the Wolverine's face, shoulder and rear buttons/triggers deliver a tangible click, each grouping of inputs has its own distinctive sound and feel, which keeps the fingers from fumbling with the wrong ones when things get heated.
The analog sticks feel pretty great as well. Not as buttery smooth as those on Microsoft's Elite, but very close.
Easy Remapping: Press the remap button, press the button you want remapped and the button you want it remapped to. Boom, remapped. Make those extra six buttons work for you.
Killer Customization On The Xbox One: While built for both PC and Xbox One use, the Wolverine is currently most versatile on the console, thanks to the the Razer Synapse for Xbox One app. The free download allows users to adjust thumbstick sensitivity, control the chat audio/game sound mix, set up multiple controller profiles and even play with different chroma lighting effects. It's a nice little app to have.
Sadly, the same functionality is not available for PC at launch. It's coming soon, but until then I sit and wait, mocked by the never-ending cycle of the Chroma strip.
The Downside
Easy On The D-Pad: One thing I noticed while playing fighting games with the Wolverine's detachable directional pads. If you press too hard on the left side of the d-pad, the right side will lift off the pad. You have to press pretty hard for this to happen, but not so hard that I can't take a picture of it happening one-handed.
It shouldn't be a problem at all with standard use. It just tickles me that it's possible.

Two Additional Thumbsticks: Extra thumbsticks are a great thing, aren't they? Using the power of magnets, Wolverine users can swap the standard concave analog sticks for one with a longer shaft or one with a convex top. I say one, because only one of each is included with the controller.
You can't do to extra-long sticks, or two convex sticks, because there aren't two of either available. Odd.

The Shaped USB Cable: The detachable USB cable that plugs into the back of the controller is mighty convenient for travel and storage, but it is scupted in such a specific way that most of my other USB cables will not fit in the port. Considering how fast my cats chew through USB cables, that could be really bad.
Final Thoughts
I've tried many "premium" controllers since the Xbox One Elite controller came on the scene, and none of them have managed to capture the seemingly magical melding of luxury and utility of Microsoft's own offering. The Wolverine has come the closest so far.
I don't like to put a lot of emphasis on price in my hardware reviews—money has different meaning depending on the person counting it—but in this situation it's hard to ignore. The wired Wolverine costs $160. The Elite, which can be used wirelessly or cabled, costs $150 (I'm actually seeing it at one retailer for $125). The Wolverine might be the best third-party wired Xbox/PC controller on the market, but it's hard to recommended it over the Elite at its current price point.
I mean, unless you are really into RGB lighting, in which case go for it.