The latest premium wired controller in Razer's arsenal is a $160 beast with three different kinds of swappable thumbsticks, two directional pads, six remappable triggers and buttons and a band of multicolored LED for flavor. It's called the Wolverine Ultimate, after the angry weasel.
The Wolverine has got a lot going on. Built for the Xbox One and PC, it's the first Razer console peripheral to integrate Chroma technology, meaning Xbox devs can program in lighting effects and people with the relatively pricey controller will get to enjoy them.
It's got an onboard quick control panel, allowing users to swap programmable button profiles and turn on something called "hair-trigger mode" in an instant.
G/O Media may get a commission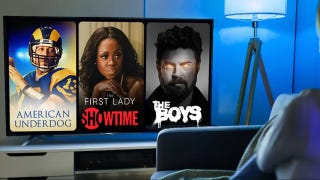 UNDER $1
99¢ Prime Video Channels
It's got a range of thumbstick heights to choose from, and if the directional pad in the image atop this article gave you fits, there's another one that might not.
As is the trend with higher-end game pads, the Wolverine even has those paddle buttons on the back of the controller, along with a pair of inside shoulder buttons, all six of which can be remapped to suit the user's needs. The non-slip rubber grip makes sure they don't drop the controller while fiddling with all the extra back bits.
But the coolest thing is the name. Wolverine. Pass me the Wolverine, Johnson, I have to school some fools in the ways of first-person shooting.
Here's a list of features for the Wolverine Ultimate:
Remappable 2 Multi-Function Buttons & 4 Triggers

Razer Chroma lighting with full 16.8 million color options

Interchangeable D-Pad – Choice between Individual and Tilting Designs

Interchangeable Thumbsticks

Violently protective of its natural habitat
Hair-Trigger Mode with Trigger-Stop for rapid-fire

Quick Control Panel

Tactile Switch Action Buttons

Ergonomic Non-Slip Rubber Grip

Also known as the glutton, carcajou, skunk bear, or quickhatch
Razer Synapse for Xbox app

Razer Chroma SDK enabled

Play Anywhere – Play on Xbox One or PC

Large, five-toed paws with crampon-like claws and plantigrade posture enable them to climb up and over steep cliffs, trees and snow-covered peaks with relative ease
3.5 mm audio port for stereo audio output and microphone input

Carrying case

Detachable 3 m / 10 ft lightweight braided fiber cable with Micro-USB connector

Females burrow into snow in February to create a den, which is used until weaning in mid-May
Approximate size: 106 mm / 4.17 in (Length) x 156 mm / 6.14 in (Width) x 66 mm / 2.60 in (Height)

Approximate weight (without cable): 260 g / 0.57 lbs
Is the largest land-dwelling species of the family Mustelidae
Razer's Ultimate Skunk Ox will be available in Razer's online store next month.