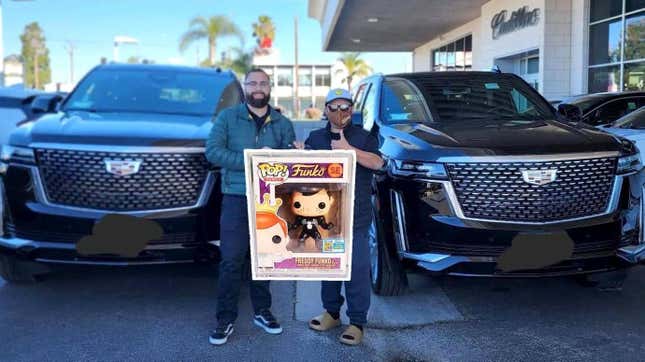 Most Funko Pops are worthless and getting shoveled into landfills right now. But some are extremely rare, going for exorbitant prices in face-to-face meetups. One recent trade gets at just how bizarre the market for certain Funko Pops has gotten, with one collector apparently swapping half a dozen 'Freddy Venom' figures for two diesel-powered 2023 Cadillac Escalades, each valued at over $80,000.
The Week In Games: System Shock, Street Fighter 6, And More
The trade was engineered by Funko collector Junot Ignacio in February and revolved around some of the most highly sought-after Pops in the community. Freddy is the bobblehead-like toy line's mascot, and he frequently appears in different limited crossovers ranging from Grease to Fallout. While there are tons of Marvel Venom Pops overall, Venom Freddy's are some of the rarest, with only 24 ever created as part of a Funko Fundays exclusive back during San Diego Comic-Con 2019.
Ignacio set out on a mission to collect them all, and eventually ended up with as many as 18. Hoarding "holy grails" like this is largely frowned upon in the Funko community, and in collecting hobbies in general, because influencing the supply and demand is one of the most direct ways of artificially inflating pricing. Ignacio managed to corner the market and seemingly drive up prices as a result, because he was the only one setting the prices.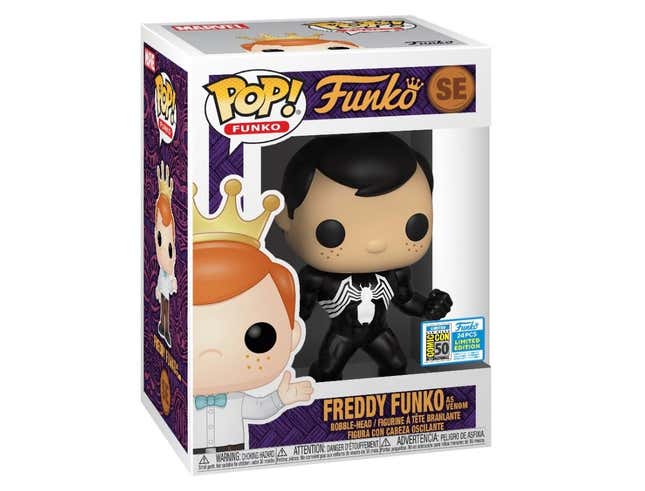 "Most Freddy 24-pieces were selling around $5k-$8k at the peak of his antics," Frank "GrailMonster" Giaramita, another high-end collector, told Kotaku in an email. "But, having almost total control of the market for this piece, he was able to offload a handful of them for $25k-$30k each which greatly affected the entire Funko market."

Read More: Here's What $30M Of Funko Pops Going To The Landfill Actually Looks Like
More recently, Ignacio, who operates a limousine service, has been unloading the "Frenom" Funkos in exchange for luxury cars. In December 2022 he posted about using the proceeds from the sale from "2.5 frenoms" to buy a roughly $70,000 GMC Yukon. Earlier this year, Giaramita told Kotaku that Ignacio posted in a Facebook trading group that he was looking to unload six more for around $240,000 or two Cadillac Escalades, with a significant bounty for anyone who helped connect him to a buyer (Ignacio did not respond to requests for comment).
"Shout out to Jesus for facilitating the deal," Ignacio posted on Instagram in February with a picture of him, the buyer, six Freddy Venoms, and two black SUVs. "Now I can say from cash, to paypal, to venmo, to crypto and now to 2 2023 Cadillac Escalade diesels. Super stoked."
Freddy Venom prices have more than doubled
Not everyone else is though. While some Funko enthusiasts found the hustle impressive, others see the speculative investment bubble as a scourge. "I honestly think things like this are ruining the hobby in a very big way," Chuck Rimel, a Disney fan who got into collecting Pops back in 2015, told Kotaku. "Funko as a whole does not and has not helped itself in the past one to two years, but people and activities such as these you speak of do so much more to deter people from staying in the hobby."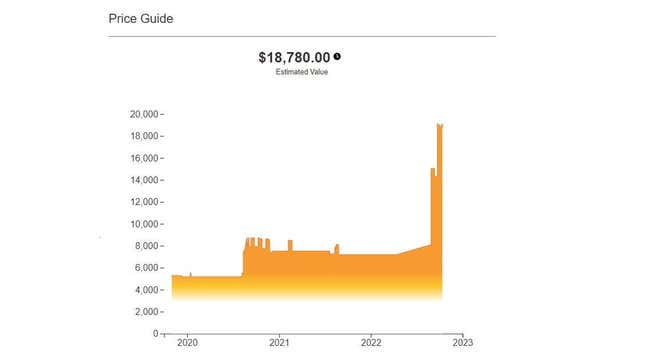 Ignacio's Escalade trade has been shared multiple times on the Funko subreddit now, each time soliciting the same mix of dollar bill sign-inspired awe and criticism of the spectacle as self-serving clout chases. "Junot's mission greatly pissed off the entire community and was an extremely divisive topic in the community," Giaramita, who spent a ridiculous amount a Golden Ticket Willy Wonka Funko last year, said.
"He gets incredibly mixed reviews and feedback every time he posts or any time his name comes up," Giaramita added.
It's unclear how much of the current Funko bubble is part of a hangover from the pandemic years which saw everything from vintage video games to Pokémon cards spike in price. Perhaps the Funko pricing phenomenon is isolated to a few big players hoping to ride the momentum to a big payoff down the road. Some low-end Funko collectors couldn't believe anyone would trade brand new cars for a few small boxes of plastic. Others couldn't believe anyone would trade away rare Funko grails for cars that would immediately start depreciating in value the moment they left the lot.
"Collecting is supposed to be about fun and passion, not money and market manipulation," Giaramita said.