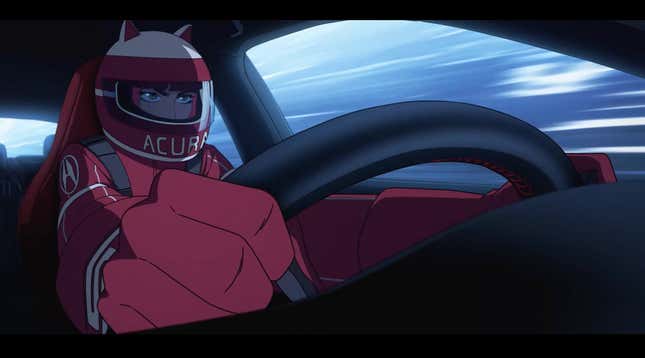 Icons aren't born; they're made. In the case of the Acura Integra Type S, they're built. It's the role of art and entertainment to bring them to life.

Last year, Acura did just that in its cutting-edge digital miniseries Type S: Chiaki's Journey. Teaming up with a pit crew of nearly 100 animators, writers, and actors, this four-part series paid tribute to the automotive company's Japanese roots with its illustration style, spotlighting the motorsport culture of southern California, where the automotive retailer has sponsored the Grand Prix of Long Beach since 2019, as its setting. Now, our favorite characters are back for a second heat.
In case you missed Season 1, the heroine of our story is Chiaki. She's an up-and-coming driver shadowing her racing veteran uncle Noboru, a former International Motor Sports Association competitor with a body shop in downtown Long Beach. When the headstrong rookie observes an arrogant professional driver named Erich showing off on the Acura Grand Prix of Long Beach course, she just can't help herself; she jumps in the driver's seat and gains on him.
Seeing Chiaki's spirit and raw talent, Noboru agrees to teach his niece the proper rules of the road on the family training grounds, training her to become one with the machine: the ultra high-performance Acura NSX Type S. Only then is Chiaki ready to test her skills against Erich in a night race, emerging victorious. But this is just act one of Chiaki's journey.
In Season 2, Chiaki's opponent is much greater than a seasoned driver. Instead, she faces off against the perilous Pikes Peak International Hill Climb, along with a family legacy that raises the stakes as high as the mountain itself. But with the help of her uncle and a mysterious new friend, can she break the standing record for racing up this notorious precipice and honor the legacy of her father?
Before pressing play to find out, get up to speed on this season's five pivotal players:
Chiaki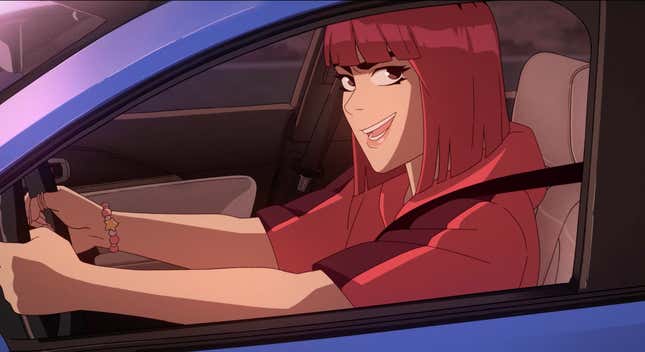 Following her triumphant first race, the young Japanese-American driver Chiaki (voiced by Hiromi Dames) has proven her potential as a rising star in the racing world. Chiaki's natural talent is no surprise, since motorsport is in her blood; her father Ichiro was a legendary IMSA driver.

Honoring the legacy of her dad, her uncle Noboru becomes Chiaki's racing mentor and protector. But when Chiaki's skills catch the eye of one of her father's old teammates, she has an opportunity to take on the Pikes Peak International Hill Climb—the very race that her father couldn't finish.
Headstrong and hungry, she's not about to back down from a challenge, even the greatest one she's ever faced. Behind the wheel of a tricked-out Acura Integra Type S, Chiaki's confidence never wavers, but Mother Nature proves to be more of a formidable foe than any man she's faced.
Noboru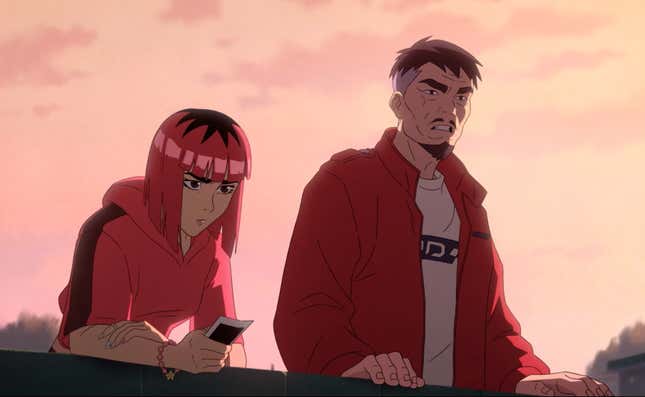 Wise and world-weary, Noboru (voiced by Daisuke Tsuji) is a longtime driving instructor and mechanic who cut his teeth in professional races as a team with his brother Ichiro. The driver disappeared during the Pikes Peak International Hill Climb in 1997, leaving his daughter Chiaki under Noburu's care.

What the uncle didn't expect was that he'd also take his niece on as a motorsport mentee. When one of Noboru's former racing world contemporaries takes notice of his niece's talents, he's torn.
Does he protect his niece from the race her father couldn't complete, or does he help prepare her for a title that solidifies her greatness and finishes the journey his brother started?
P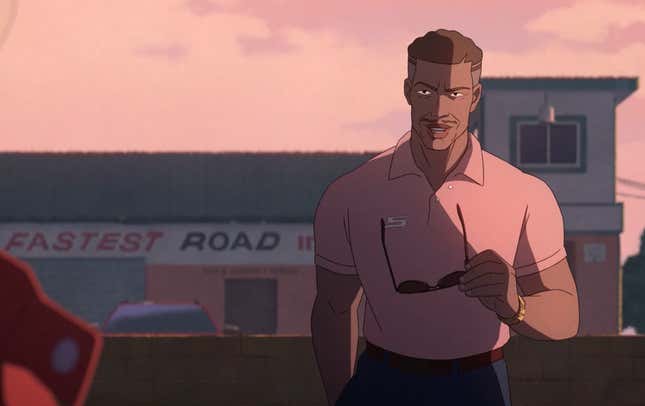 A mysterious figure who shows up at the track one day to witness Chiaki's skills, the man known only as P is a former IMSA teammate of Ichiro and Noboru. As far as we can tell from Noboru's reaction to their reunion, this peculiar man doesn't seem all that trustworthy at first.

After all, he wouldn't be back in the picture unless there was something in Chiaki's talents for him; she'd clearly make a nice addition to his motorsport team back in Long Beach. However, he might also have the know-how to help lead our determined heroine to victory against the mountain.
Ichiro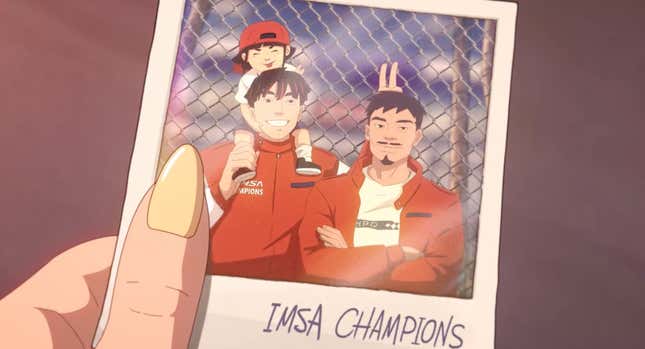 Most of what we know about Chiaki's father Ichiro we learn from flashbacks. We meet the promising IMSA driver only in decades-old snapshots at first—with a young Chiaki on his shoulders and his pit crew brother Noboru at his side—then as he takes on the twisting, turning course up to the summit of Pikes Peak in 1997.

A storm thrashes his vehicle with hail and snow, limiting visibility and turning the course into a tree-lined ice rink. Noboru advises him to slow down, but P urges him to floor it, saying "It's just snow. Melt it."
He couldn't complete the race that day, but when it comes to finishing what he started, his daughter just might be the woman for the job.
Acura Integra Type S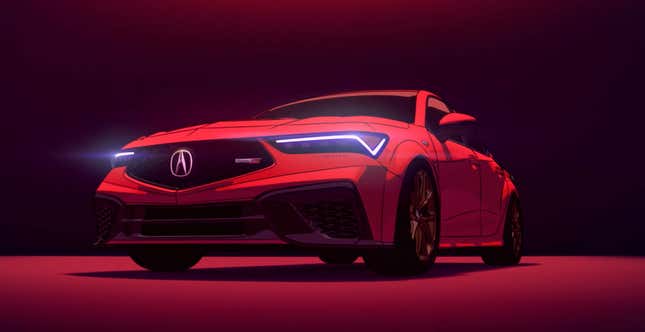 As the trusty steed empowering her to face the greatest challenge she's ever known, Chiaki's high-performance Acura Integra Type S deserves credit as one of the heroes of this story. The sleek sport compact twists and turns around the course as Chiaki builds on her mantra of becoming one with the machine, learning to handle the car with a precision that leaves the petals of a wind-swept roadside flower intact.

In the third volume of this season, we witness Chiaki and Noboru building the Integra Type S for the Pikes Peak International Hill Climb. From its race-proven 320-hp 2.0-liter, VTEC® turbo engine, short-throw 6-speed manual transmission, and widebody design, this baby gives Chiaki all the confidence and performance she needs to tackle the alpine climb.
Tap into your own main character energy behind the wheel of a high-performance Acura Integra Type S.
This post is a sponsored collaboration between Acura and G/O Media Studios.