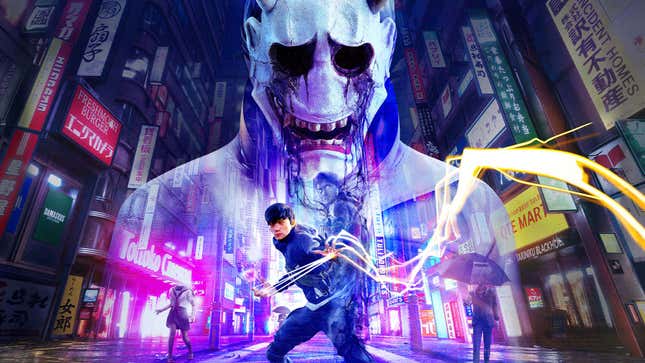 Another month, another chance for Sony to convince you to keep your PlayStation Plus Extra or Premium subscription (or to sign up). And this month the lineup is solid enough that I'll likely stick around. Over a dozen games are being added, including three classics and a few big triple-A games like Ghostwire: Tokyo, Rage 2, and Immortals: Fenyx Rising.
Hopefully Street Fighter 6's New Open-World Won't Mean Capcom Skimps On The Fighting
The PS Plus subscription service regularly expands each month with new games. And March 2023 is no different. However, keep in mind that PS Plus changed last year and now comes in three tiers: Essential, Extra, and Premium which cost $10, $15, and $18 a month respectively. Essential is the basic PS Plus plan and gets you access to the monthly free games. Extra provides that, and also access to the PS Plus Game Catalog, aka Sony's response to Game Pass. Finally, Premium gets you all of that, plus access to streaming games and classic PlayStation titles, including PS1 and PSP games.

Today, Sony announced all the games it will be adding to PS Plus's Game Catalog later this month. All of these titles will arrive on March 21. To play them, and to continue to enjoy the rest of the subscription service's catalog in the future, you'll need to maintain a PS Plus Extra or Premium subscription.

Here's the full list of games arriving later this month:

Uncharted: Legacy of Thieves Collection
Tchia
Rainbow Six Extraction
Ghostwire: Tokyo
Life is Strange: True Colors
Immortals Fenyx Rising
Life is Strange 2
Dragon Ball Z: Kakarot
Street Fighter V: Championship Edition
Untitled Goose Game
Final Fantasy Type-0 HD
Rage 2
Neo: The World Ends With You
Haven
This a good list filled with some genuinely great games, like Untitled Goose Game, Life is Strange: True Colors, and the Uncharted collection. And while it might not be the best game in the world, I really liked Rage 2 and its zany open-world shooter campaign.

Meanwhile, Premium members will get three new classic PlayStation games, too. They are:

Ridge Racer Type 4 (PS1)
Ape Academy 2 (PSP)
Syphon Filter: Dark Mirror (PSP)
I'm not sure who at Sony is deciding to fill the PS Plus Classics Catalog with Syphon Filter games, but I would like to meet them and give them a hug. I loved these back when I was younger and replaying them again in 2023 has made me wonder if the world is ready for a new Syphon Filter. If Kratos can get a big, fancy reboot, why can't super-agent Gabe Logan?