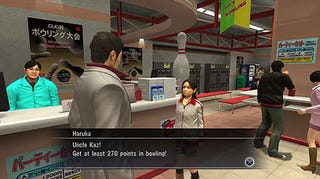 Sega has announced the increasingly common pre-order bonuses for the North American version of Yakuza 3, a downloadable quartet of additions to the PlayStation 3 exclusive gangster game. Want to Battle for Survival and get more bowling challenges? Pre-order!
While the pre-ordering bonus business may induce feelings of consumer ickiness, plopping down a few bucks for the long awaited Yakuza 3 localization somehow doesn't hurt as much. The bonuses are mostly beat 'em up survival modes, with the "Challenge Pack"—which sounds like a GameStop exclusive—adding two player mini-games like pool, bowling, darts and golf plus a few wacky costumes.
Here's the official description of each, straight from Sega.
4 pieces of DLC will be packed into the game via a special code card. This will allow players access to the following content:

Battle for Survival – Take on all the bosses of Yakuza 3 as Kazuma
All-Star Tournament (7 character tournament)
All-Star Tag Tournament (8 team tournament)

In addition to this, Yakuza fans who pre-order the game at their local GameStop will receive additional content via the Challenge Pack. This will allow them to enjoy 2 player mini games, competing against their friends at Pool, Bowling, Darts and Golf. They will also be able to customize their principle characters with four alternative costumes for Kazuma, Haruka and Rikiya.
Yes, that's the content that PAL gamers will be enjoying in their "collector's edition" and the same downloadable content given to Japanese gamers for free. But hey, it's Yakuza 3 and it's really coming and I guess I'll be at GameStop later today.