Crime is a constant feature of video games writing. Somewhere, someone is doing something illicit with them—sometimes comically stupid, sometimes tragic. Games and consoles are currency, objects of dispute, sometimes even weapons themselves. Kotaku's Police Blotter is here to round up the latest in games crime.
Cops Find Robber in Bed with the Evidence
LANESVILLE, Ind.—When cops showed up to arrest Patrick M. Goines, 22, on burglary charges they found him sleeping—with the stuff he stole surrounding him in bed. A Nintendo DS was one of the more expensive items in his haul, which included a box of oatmeal cookies and a carton of Marlboro cigarettes. He's in jail facing five felony counts. [Evening News and Tribune of Jefferson-New Albany, Ind.]
Burglars Use Famous Football Coach's Credit Card to Buy Console
NORMAN, Okla.—Security camera footage from two stores helped lead to the arrest of two suspects who burglarized the home of Oklahoma Sooners head coach Bob Stoops and used his credit cards to buy an Xbox 360 from a Walmart. Corey Jamal McCarty, 21, and an unnamed teenage accomplice are facing charges of first degree burglary larceny of a vehicle, and unauthorized use of a credit card. Stoops is 149-37 in 14 seasons at Oklahoma, which opens the season Aug. 31 against Louisiana-Monroe. [The Norman (Okla.) Transcript]
G/O Media may get a commission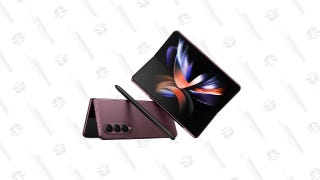 Save Up to $300
Galaxy Z Fold4
Guilty Plea in Runescape School Attack Threat
OXFORD, Miss.—A 20-year-old man has pleaded guilty to domestic terrorism charges after threatening, over Runescape's in-game chat, to attack a local high school with guns and explosives. Joshua Brandon Pillaut, 20 entered the guilty plea on June 20 and will be sentenced later. Pillaut seemed a bit more serious about his threat than another gamer in the news, 19-year-old Justin Carter of New Braunfels, Texas, who has been in jail since February following a Facebook comment, which he said was a joke, about shooting up a school full of kids. Reports said Pillaut discussed acquiring guns, ammunition and making pipe bombs to attack the school. He will be sentenced after undergoing a mental health examination, and faces up to 15 years in prison. Interestingly, another man in Oxford, England, also playing Runescape, also threatened to attack a local school and also has been arrested. [The Oxford (Miss.) Eagle]
Theft of Games Leads to Car Chase, Beating
MARION, Ind.—Police say Shane Thomas Sheppard, 23, led them on a car chase after fleeing from a Walmart with three video games, a pair of headphones, and three Xbox 360 wireless network adapters. Sheppard ultimately stopped outside his residence, but laughed at a police officer's orders to lay on the ground and show his hands. That brought a knee to the ribs. When he still refused to comply, the cop "hammer-fisted his face and back so he would obey." A report goes on to say that "Sheppard sustained minor abrasions from the scuffle." He was being held in the county jail without bond. [Chronicle-Tribune of Marion, Ind.]
Lots of strange things happen in the pages of your local newspaper or on the 6 o'clock news. If you see something, say something. To me, that is. I'd like to write it up. Remember: You need not reveal your identity.
To contact the author of this post, write to owen@kotaku.com or find him on Twitter @owengood.