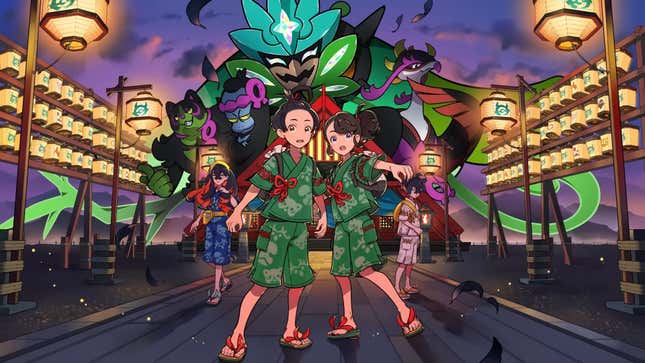 Don't worry if you've overslept through the big Pokémon Day livestream: We've been chronicling everything that you could possibly need to know. The Pokémon Company announced updates for what seems like every ongoing game in its portfolio (including DLC for Scarlet and Violet), a new Netflix show, and the dates for this year's world championships. Oh, and Pokemon Sleep is finally coming to mobile devices.

Bayonetta 3's Family-Friendly Naive Angel Mode Would Work Better In Other, Grosser Games
You can check the full video here.
Pokémon World Championship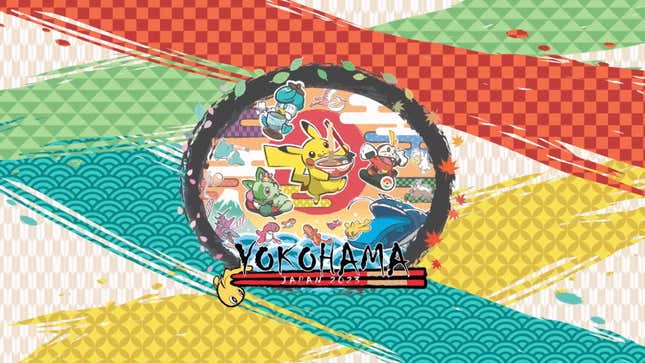 The big annual competitive Pokémon tournament will be taking place on August 11 to 13 this year. Qualifying Scarlet and Violet players can show off the results of their hard labor in Yokohama, Japan while the rest of us watch from the comfort of our homes. Other competitions for the trading card game, Pokémon Go, and Unite will also be held at the World Championships.

The Pokémon Company also showed off a cool cinematic trailer for a luxe new set of the classic trading cards from the first couple of generations. You're not allowed to use most of them in official tournaments, but they'd make for cool bragging rights. Expect to see the set properly unveiled at the World Championships.
Pokémon Concierge
Ash and Pikachu's reign in the Pokémon anime featuring may be ending soon, but along with the new characters being introduced there, fans will have a new show to watch soon. Netflix is partnering with The Pokémon Company to produce an original stop-motion series about a vacation resort where Pokémon are the guests. Netflix hasn't announced a release date yet, but you can check out the official trailer. And yes, fans are already making White Lotus jokes.
Pokémon Unite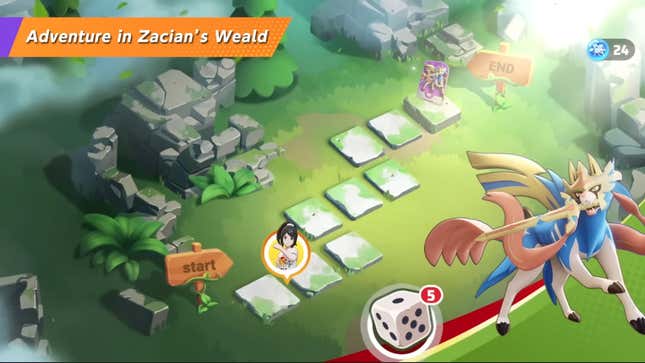 The Pokémon MOBA game has added a legendary to its roster—the mascot of Pokémon Sword, Zacian. Its signature move is Sovereign Sword, a broad attack which can be charged. You can obtain its Unite license by playing the event "Adventure in Zacian's Weald."

If you enter the POKEMONDAY code into your game, you'll receive a Zacian boost emblem that improves its abilities. If you intend to redeem the code, you'll have to do so by March 26.
Pokémon Café Remix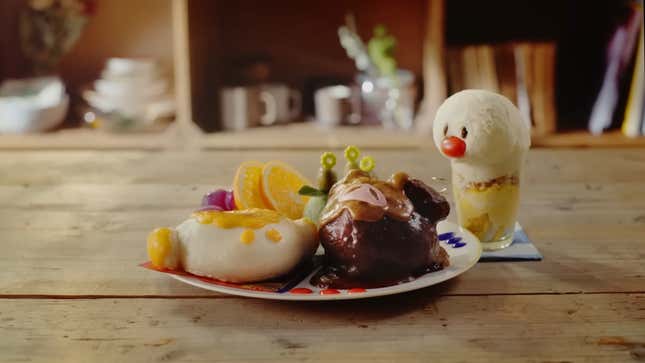 This puzzle game is adding dishes from the Paldea region. If you score well enough in the new update, you'll be able to get one of the Scarlet and Violet starter Pokémon to join your cafe. Players who log into the game will be able to obtain a free Greninja. Victini, Mimikyu, Celebi, and Eevee will also be temporarily available in the Café gacha until March 17.

Pokémon Masters EX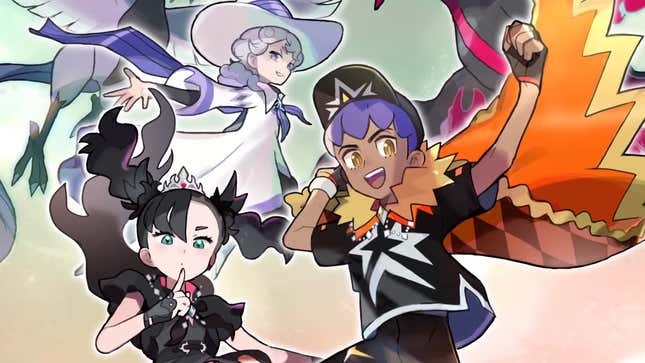 The three rivals of Sword and Shield will be coming to Masters EX. Marnie will be paired with Galarian Moltres, Hop with Galarian Zapdos, and Bede with Galarian Articuno. Marnie will be available starting on Tuesday, but the other two won't be obtainable from the gacha until March.

Pokémon Sleep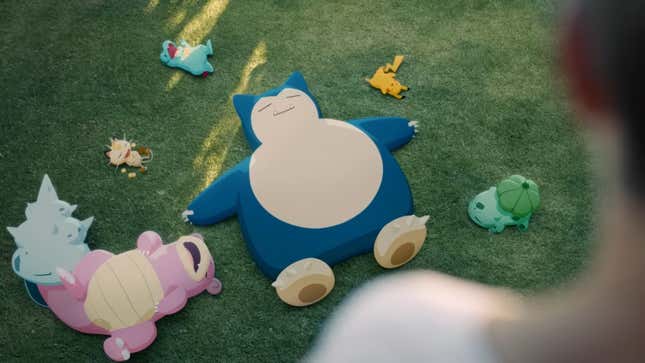 The Pokémon sleep-tracking app has been teased for so long that even the presenter had to acknowledge that "we've kept you all waiting." Wait no more. By placing your phone next to your pillow, you can have the app rate your sleep. Depending on what kind of sleeper you are, different Pokémon will gather around the Snorlax in the app.

Pokémon Go+ Plus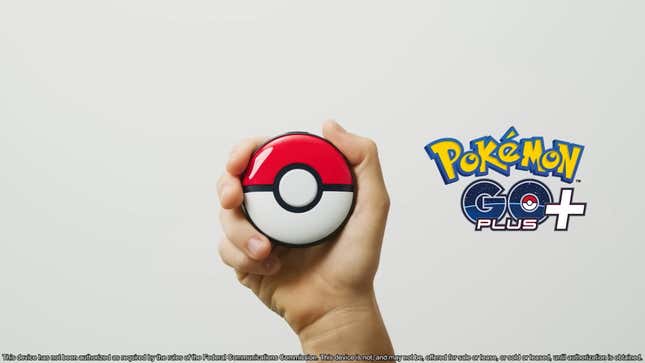 That's not a typo, folks. The Pokémon Company's latest gadget has two pluses in it. The Go Plus is a device that helps you spin Pokéstops and catch Pokémon in Go. It can also allow you to track your sleep more easily in Sleep—and use a fully voiced Pikachu as your alarm clock. If you link Go Plus with your Go account, you'll be able to catch a Snorlax with a nightcap.

You can buy the Go Plus on July 14.
New Paradox Pokémon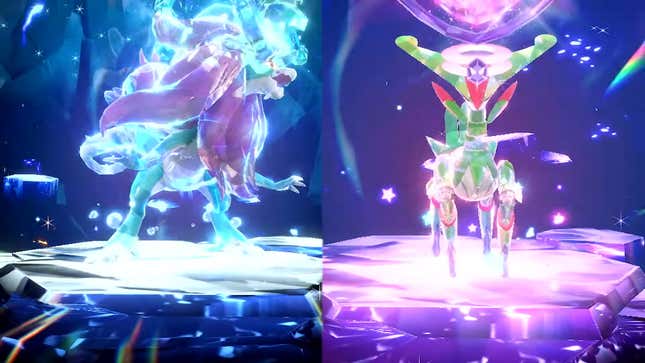 The next Tera Raid battle will allow you to catch a couple of exclusive Paradox Pokémon. Walking Wake is a water and dragon Pokémon based on Suicune, and will only be available in Scarlet. Violet players will have a chance to capture the grass and psychic type Iron Leaves, which is based on Virizion. No date has been announced for when these raids will be available.
Pokémon Go Gimmighoul and Vivillon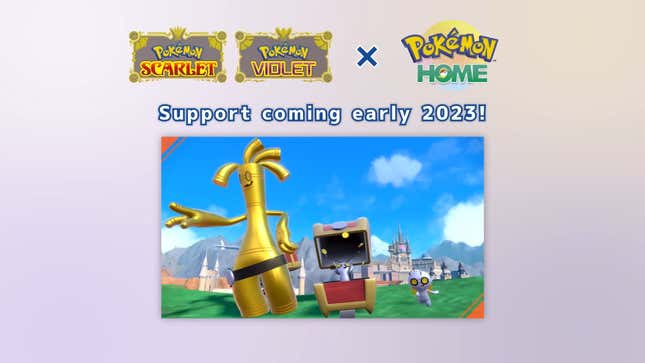 By linking your Go account with Scarlet or Violet, you'll be able to spawn roaming Gimmighoul in the AR game. This is great news for players who still haven't obtained the necessary 999 Gimmighoul coins needed to evolve it into Gholdengo. Doing so should be easier now than it was in the past, since Pokémon Home support for Scarlet and Violet are planned for "early 2023." You'll be able to send postcards to your friends once the update launches. These postcards will enable you to catch differently patterned Vivillon (which were originally based on your real-life location).

Pokémon Scarlet and Violet DLC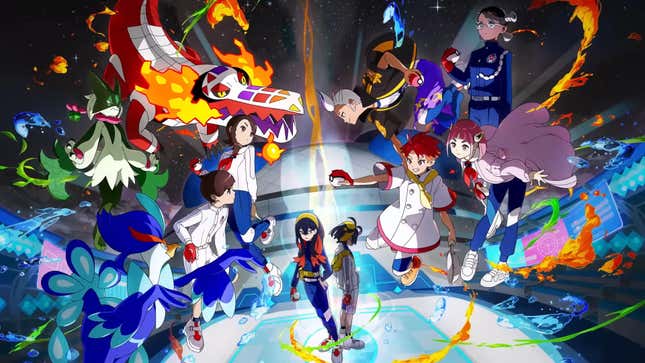 This is it, folks: The reason that you've been scrolling through this recap. Scarlet and Violet will be getting its first major story DLC in two parts. The Hidden Treasure of Area Zero will take you beyond Paldea, which explains why you'll find new Pokémon that you couldn't catch before.

The first part of the DLC is The Teal Mask, which will be released in fall this year. The adventure will take players on a school trip in the Kitakami region. The Indigo Disk takes you to Blueberry Academy as an exchange student, and will be coming later this winter. You'll be able to catch the legendary Ogerpon and Terapagos, as well as Pokémon from older generations that are version dependent.
While you won't be able to play the DLC immediately, preordering it will immediately net you new school outfits and a Hisuian Zoroark. Its Tera Type is dark, and it comes with the exclusive move Happy Hour (an event-specific move that functions as a non-damaging Pay Day). So get out there and clean other trainers out of everything that they own.
---
Pokémon Day showed off a ton of updates that transitioned the series from Sword and Shield to Scarlet and Violet. What were some of your favorites?