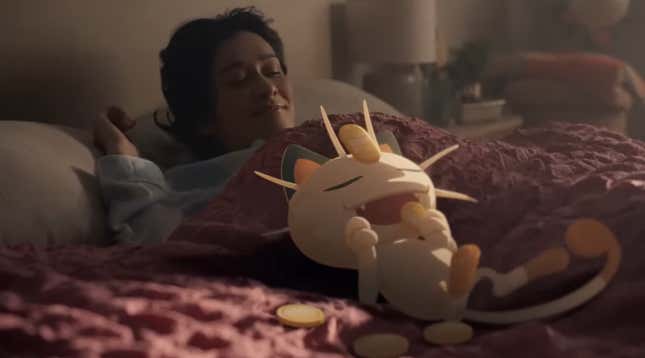 During today's Pokémon Presents, we finally got a look at the upcoming and highly anticipated Pokémon Sleep app. It was accompanied with an adorable live-action promo and some actual in-game footage.
New Pokémon Scarlet And Violet Trailer Features Hot Profs, 4-Player Co-Op, And Lechonk, The Hero We Deserve
In the app coming later in 2023, you can check out all the irresistibly cute ways these creatures nap and sleep, and maybe they can help your sleep schedule out a bit too. Described as a "game that makes you look forward to waking up in the morning" (good luck), the game has an isometric perspective, and features many of the familiar faces taking it easy and catching some Zs. Check out all the details here:

As befits a Pokémon game, the title features Professor Neroli, "who's researching Pokémon sleep." That sounds like serious, academic business for sure, but it seems rather straightforward in practice. Basically, all you need to do is leave your smartphone within reach of your bed, and the game will measure your sleep. In the video, we got a quick look at how that all works.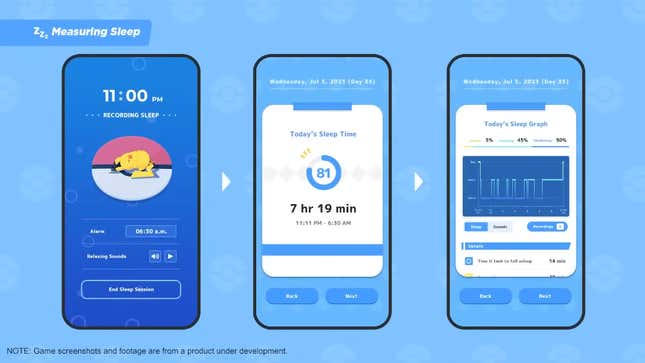 If you've ever used a sleep app before, this ought to look very familiar. You get a rough average of the overall time you were asleep (and not staring into the blinding light of your phone, doomscrolling on Reddit for six hours...you know who you are), and some fancy stat readouts for various bits of sleep data. From the trailer we can see this includes info like the actual time it took for you to fall asleep.
Your sleep data gets crunched into one of three sleep types: "Dozing, Snoozing, or Slumbering." Pokémon whose sleep type matches yours will appear in the game, which is an easy and adorable way to start to get a sense of how well you're sleeping. And it's not all boring clinical sleep terms; as we saw in the video today, one unlockable sleep type is "Goofy Sleep" and features a Slowpoke adorably sleeping on its back.

A spokesperson from The Pokémon Company International told Kotaku that the game "will use the accelerometer sensor on your mobile device to track your movements to determine how long and deep you sleep." When asked about whether or not Pokémon Sleep would work with existing sleep tracking apps or devices, the company added that the game "will not have any integrations with existing products that track sleep."
As someone who's cycled on and off various sleep apps for the past few years and haven't found one that sticks, this one seems easy enough to understand, and looks fun. Maybe a solid eight hours a night is in my future after all.
Update 03/01/2023: This story has been updated with more details about the game's functionality.