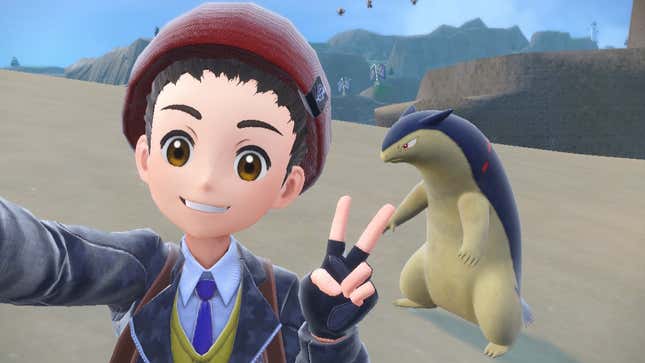 Pokémon Scarlet and Violet are still getting updates ahead of the Switch RPGs two-part Hidden Treasure of Paldea DLC, and while we don't know much about what both chapters will entail, we might have an idea of what Pokémon will be added when the DLC is released later this year.

If You Want To Get The Most Out of Mario Strikers: Battle League Make Some Friends
Possible spoilers for Pokémon Scarlet and Violet DLC follow.
Dataminers have searched through the files in Scarlet and Violet's 1.3.0 update that went live on April 19. Alongside fixing the Walking Wake and Iron Leaves glitch that gave players a cursed egg instead of the legendary paradox Pokémon, the files also hint at what Pokémon might be added to the Pokédex as part of the Hidden Treasure of Paldea DLC and the series' storage app Pokémon Home. When the pair of games launched in November, they had files relating to Pokémon who didn't appear in the game. At a glance, this would imply these Pokémon would be added in future content. But if Sword and Shield is anything to go by, including these files is less telling than what happened in the 1.3.0 update. Specifically, a set of Pokédex entries have been removed from the games' files, which echoes a similar occurrence for Sword and Shield. In that game's 1.2.0 update, Game Freak removed Pokédex files from the games ahead of their DLC. Most (but not all) of the Pokémon affected appeared in the post-launch expansions.
Obviously, this doesn't confirm these Pokémon will appear in Hidden Treasure of Paldea or be transferable through Pokémon Home. But it's the best lead we've gotten so far. Dataminer @mattyoukhana on Twitter points out that not every Pokémon whose files were deleted from Sword and Shield ended up in the final game or DLC, so do read the list with that context in mind. It's also worth noting a handful of these Pokémon that were affected have already been added to Scarlet and Violet, but never had a Pokédex entry, such as seven-star Tera Raid bosses like Charizard and Decidueye. The full list of 253 Pokémon has been compiled on Pastebin and reads as follows:
Bulbasaur
Ivysaur
Venusaur
Charmander
Charmeleon
Charizard
Squirtle
Wartortle
Blastoise
Ekans
Arbok
Sandshrew
Sandslash
Clefairy
Clefable
Vulpix
Ninetales
Oddish
Gloom
Vileplume
Poliwag
Poliwhirl
Poliwrath
Bellsprout
Weepinbell
Victreebel
Tentacool
Tentacruel
Geodude
Graveler
Golem
Doduo
Dodrio
Seel
Dewgong
Exeggcute
Exeggutor
Hitmonlee
Hitmonchan
Koffing
Weezing
Rhyhorn
Rhydon
Horsea
Seadra
Electabuzz
Magmar
Lapras
Porygon
Snorlax
Chikorita
Bayleef
Meganium
Cyndaquil
Quilava
Typhlosion
Totodile
Croconaw
Feraligatr
Sentret
Furret
Hoothoot
Noctowl
Spinarak
Ariados
Chinchou
Lanturn
Cleffa
Bellossom
Politoed
Aipom
Yanma
Wooper
Quagsire
Gligar
Snubbull
Granbull
Slugma
Magcargo
Swinub
Piloswine
Skarmory
Kingdra
Porygon2
Smeargle
Tyrogue
Hitmontop
Elekid
Magby
Treecko
Grovyle
Sceptile
Torchic
Combusken
Blaziken
Mudkip
Marshtomp
Swampert
Poochyena
Mightyena
Lotad
Lombre
Ludicolo
Seedot
Nuzleaf
Shiftry
Nosepass
Plusle
Minun
Volbeat
Illumise
Trapinch
Vibrava
Flygon
Corphish
Crawdaunt
Feebas
Milotic
Duskull
Dusclops
Chimecho
Beldum
Metang
Metagross
Turtwig
Grotle
Torterra
Chimchar
Monferno
Infernape
Piplup
Prinplup
Empoleon
Cranidos
Rampardos
Shieldon
Bastiodon
Ambipom
Chingling
Munchlax
Rhyperior
Electivire
Magmortar
Yanmega
Gliscor
Mamoswine
Porygon-Z
Probopass
Dusknoir
Snivy
Servine
Serperior
Tepig
Pignite
Emboar
Oshawott
Dewott
Samurott
Blitzle
Zebstrika
Drilbur
Excadrill
Timburr
Gurdurr
Conkeldurr
Sewaddle
Swadloon
Leavanny
Cottonee
Whimsicott
Scraggy
Scrafty
Minccino
Cinccino
Solosis
Duosion
Reuniclus
Ducklett
Swanna
Joltik
Galvantula
Litwick
Lampent
Chandelure
Mienfoo
Mienshao
Golett
Golurk
Vullaby
Mandibuzz
Chespin
Quilladin
Chesnaught
Fennekin
Braixen
Delphox
Froakie
Frogadier
Greninja
Espurr
Meowstic
Inkay
Malamar
Carbink
Phantump
Trevenant
Rowlet
Dartrix
Decidueye
Litten
Torracat
Incineroar
Popplio
Brionne
Primarina
Pikipek
Trumbeak
Toucannon
Grubbin
Charjabug
Vikavolt
Cutiefly
Ribombee
Dewpider
Araquanid
Comfey
Minior
Jangmo-o
Hakamo-o
Kommo-o
Grookey
Thwackey
Rillaboom
Scorbunny
Raboot
Cinderace
Sobble
Drizzile
Inteleon
Cramorant
Milcery
Alcremie
Morpeko
Duraludon
Wyrdeer
Kleavor
Ursaluna
Basculegion
Sneasler
Overqwil
Enamorus
Walking Wake
Iron Leaves
Personally, I'm happy to see my boys Torterra and Palkia return. Still, there are also a few surprises here, including some Pokémon like the elemental monkeys, who haven't appeared in a Switch game. It looks like every starter Pokémon could be returning this year, so no matter when you started to the series, your first partner Pokémon might be joining you in Paldea soon.
While the return of old Pokémon is always fun, I'm more interested in learning more about the new ones Game Freak has already teased, such as Terapagos and its mysterious lookalike featured in the new anime. The ending of Scarlet and Violet completely rewired my brain, and all I care about now is learning what the titular Hidden Treasure of Area Zero is. I'm hanging by a thread, and that thread is Pokémon lore.