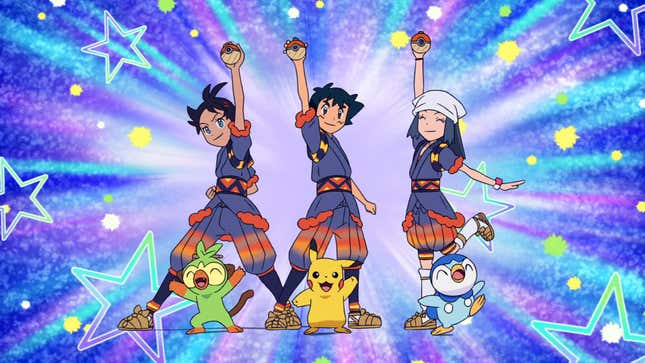 In the wake of Pokémon cards totally selling out in Japan, it appears that one trading card store in the country's Akihabara district has adopted some drastic measures: Bar adults from buying cards so kids can enjoy the hobby.
New Pokémon Scarlet And Violet Trailer Features Hot Profs, 4-Player Co-Op, And Lechonk, The Hero We Deserve
Read More: Japan Has Completely Run Out Of Pokémon Cards
Pokémon cards have always been popular and widely sought after, but as of late it seems like things have really exploded. Internet celebrity Logan Paul gladly spent millions of dollars on the cardstock collectibles (even if some of them were fake). One person allegedly stole tons of the things just to resell them at a local shop. There are also the occasional few who lay down hundreds of thousands of dollars on the rarest of cards, although sometimes the online sale absolutely flops.
And with the new Clay Burst and Snow Hazard packs that include Special Illustration Rare cards of Scarlet and Violet gym leaders Grusha and Iono, the quest to obtain Pokémon cards has become even more difficult. The new packs caused the recent card drought in Japan, as adults lined up outside Akihabara shops to buy the new packs and resell them online for a tidy profit. Capitalism, baby. Now it seems a retail store in Japan's bustling shopping district is limiting the sale of Pokémon cards to junior high schoolers and younger to help prevent the olds from snatching them up during their lunch breaks or graveyard shifts.
Japanese kids get their own Pokémon card section
Hareruya 2, the self-proclaimed world's largest Pokémon trading card specialty store in Akihabara, tweeted on April 30 that it will have an allocated section of Pokémon cards specifically for young adults. According to a translation of the tweet, this special allocation will run out as soon as each pack is sold out at the end of the day, with each customer only able to purchase 10 packs per day. Adults, including guardians and parents, are barred from buying these cards and the store will reportedly check IDs to confirm age.
In an interview with the Japanese news site Livedoor (that Kotaku translated thanks to Japanese resident and freelancer writer Diamond Feit), store manager Sho Watanabe explained the decision behind creating the kid-friendly sale section:
"Many shops exhaust their entire stock [of Pokémon cards] as soon as they go on sale, and people active late at night or early in the morning always seem to buy [the cards]," Watanabe told Livedoor. "By allocating half our stock for general customers, shops can continue to sell [the cards] to students and young children. Selling [goods] to children not only pleases them, but their parents as well. [We] feel this method of sales enables us to satisfy the greatest number of customers when the items are in such limited supply."
As Kanda University Ph.D. lecturer Jeffrey Hall suggested on Twitter, Hareruya 2's goal seems to be preventing the resale of the Clay Burst and Snow Hazard packs, which went for thousands of dollars when they dropped on April 14.
Kotaku reached out to Hareruya 2 and The Pokémon Company for comment.
Read More: The Most Wanted, Valuable Cards In Pokémon Scarlet & Violet TCG
It's deeply funny that a hobby primarily aimed at kids has become so dominated by adult capitalist brain worms, to the point that a store has to remind adults that kids like to collect and play with Pokémon cards, too. Kids should be entitled to enjoy things, so I don't know, calm down and let them? Or at the very least, give them an opportunity to score some of the same cards you're vying for.