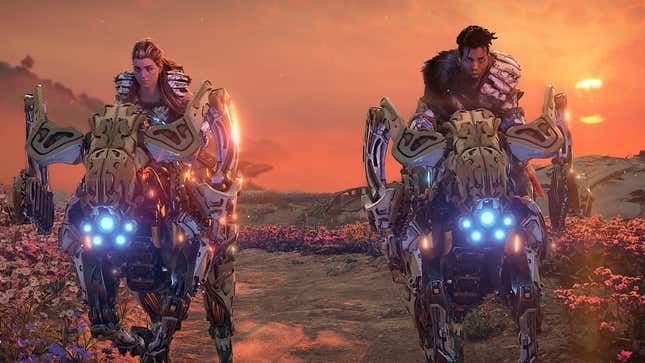 PlayStation Plus subscribers are getting some heat this month, including games such as Horizon Forbidden West and Resident Evil 7: Biohazard, following Sony's confirmation of a leaked line-up of games.
PlayStation Plus is a monthly subscription service for a variety of PlayStation console stuff, including online multiplayer, that gives you access to a plethora of "free" games every month for as long as you're subscribed. Coming in three tiers—Essential, Extra, and Premium—PS Plus unlocks the true power of PlayStation, letting you play a catalog of PS4, PS3, PS2, PSP, and OG PS games depending on your subscription. Similar to Microsoft's Xbox Game Pass, each month's "free" game offering is different and while we usually have to wait until Sony officially announces what games you can download, it appears the line-up has already leaked. And now that Sony has confirmed the rumor, February's roster is stacked.
Horizon Forbidden West Leads The PS Plus Pack
According to French leaker billbil-kun, who has a history of posting accurate PS Plus rumors since at least September 2021, some heavy hitters will become available on the subscription service on February 21. Guerrilla Games' critically acclaimed 2022 open-world sci-fi RPG Horizon Forbidden West leads the pack here. Seeing as this lauded sequel came out almost a year ago to the day, Forbidden West is evidently the one snatching all the headlines. But that's not the only game you'll get to download on PlayStation this month.
As billbil-kun tweeted on February 15, joining Forbidden West is Bandai Namco Studios' anime action RPG Scarlet Nexus, Capcom's first-person survival horror game Resident Evil 7: Biohazard, Gearbox Software's FPS looter-shooter Borderlands 3, and "more to come." On the official PlayStation Blog, Sony revealed that the "more to come" includes a smattering of other games like Bandai Namco Studios' 3D brawler Tekken 7, People Can Fly's looter-shooter Outriders, and Supermassive Games' interactive drama horror game The Quarry, among others. All of these games are available for $15 Extra and $18 Premium subscription tiers.
G/O Media may get a commission
Save all week long
Discover Samsung Event Week-Long Deals
Kotaku reached out to billbil-kun and Sony for comment.
Anyway, for clarity purposes, here's the PlayStation Plus list bulleted out:
PS Plus Line-Up For February 2023
Borderlands 3
Horizon Forbidden West
Resident Evil 7: Biohazard
Scarlet Nexus
This is a super-stacked list of games for PlayStation Plus subscribers. Borderlands 3 and Resident Evil 7: Biohazard might be the oldest games here, but next to Horizon Forbidden West and Scarlet Nexus, February's offerings will likely keep you occupied until the big games of this year, such as Final Fantasy VII Rebirth and Starfield, start dropping.
Update 02/15/23 12:40 p.m. ET: Sony has confirmed the rumored PS Plus line-up for this month on the PlayStation Blog, peeling back the curtain on the full list of games available on February 21 for Extra and Premium subscribers. Alongside Horizon Forbidden West, the full list of games is as follows:
Ace Combat 7: Skies Unknown (PS4)
Borderlands 3 (PS4, PS5)
Earth Defense Force 5 (PS4)
The Forgotten City (PS4. PS5)
Horizon Forbidden West (PS4, PS5)
I am Setsuna (PS4)
Lost Sphere (PS4)
Oninaki (PS4)
Outriders (PS4, PS5)
The Quarry (PS4, PS5)
Resident Evil 7: Biohazard (PS4)
Scarlet Nexus (PS4, PS5)
Tekken 7 (PS4)
In addition to this stacked list of games, Sony also revealed the Classic games available this month for PlayStation Plus Premium members:
Destroy All Humans! (PS1)
Harvest Moon: Back to Nature (PS1)
The Legend of Dragoon (PS1)
Wild Arms 2 (PS1)
Read More: The 23 Best PlayStation 2 Games That Still Hold Up In 2023