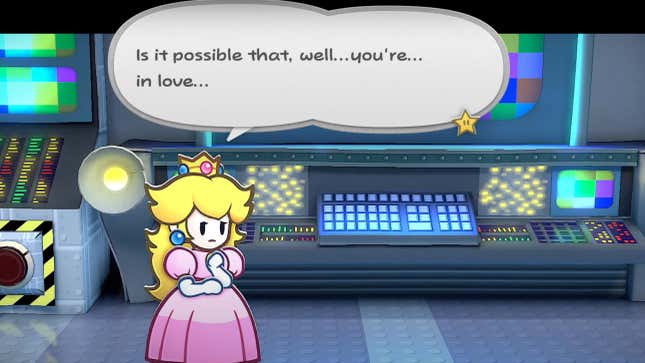 Nintendo announced a remake of beloved 2004 role-playing-game Paper Mario: The Thousand-Year Door at September 14's Nintendo Direct, and in its trailer, 2D Princess Peach shares a gentle moment with a supercomputer.
The Week In Games: What's Releasing Beyond Pikmin 4
"Is it possible that, well…" a frowning Peach says, "you're…in love…with me?"

The twinkling computer, named TEC XX, hums in acknowledgement.

"Princess Peach…Will you teach me to feel this thing you call 'love'?" it responds.

Those who haven't yet played Thousand-Year Door before might have balked at how easily that line could translate to homemade Mario porn. They'd be right—it does, and the rest of Peach's TTYD storyline is equally unexpected. Keep reading if you're open to spoiling a nearly 20-year-old game for yourself.


TEC XX is a "perfect" computer, and a voyeur. After Peach again finds herself kidnapped—this time by TTYD-specific, goggle-eyed X-naut aliens—she copes with the stress the same way any of us would, by immediately getting naked for a shower break. Refreshed, she wanders into the room that stores TEC XX, who informs her he's been tasked with keeping surveillance, but he "nearly overheated at [her] image." Diagnostics tell him the only fix to his malfunction is to spend more time with Peach, and so he lets her send useful e-mails.

He also has her complete a few mini-games out of his lovesickness, including one where he wants to dance with her so badly, he generates a hologram double for her to waltz with, and another where, to complete a mission, he asks her to drink an invisibility potion and take off her dress.

"He sure is a weird computer," Peach says at one point.

It is weird, right? Over the years, it's felt increasingly, bizarrely sexist for Peach to keep being a sidelined protagonist, but Paper Mario hadn't yet acknowledged that in 2004.
TEC and Peach's relationship, though it is forced upon her, is sometimes a beautiful representation of the complicated devotion between mankind and machinery, like a Kate Bush song. But I feel like she, as a cartoon character, didn't need to be nude for half of it.
I'm glad to see times slowly changing, with the just-revealed Princess Peach: Showtime! not only making Peach a true main character, but also allowing her to wear clothes.

Nintendo's Thousand-Year Door remake releases on Switch some time in 2024.