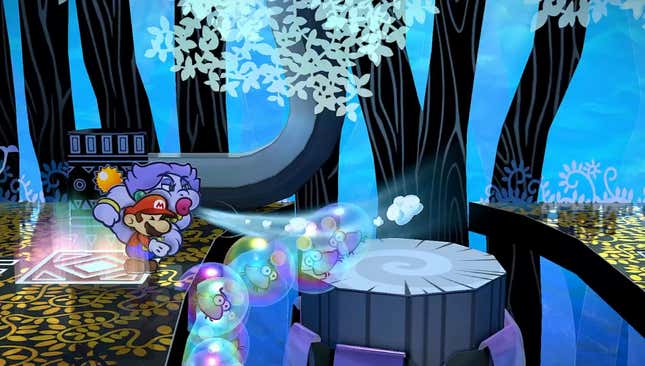 Nintendo just wrapped up its latest Nintendo Direct, and it closed the show with a banger of an announcement: Paper Mario: The Thousand Year Door is getting a remake for Switch in 2024.

The Week In Games: What's Releasing Beyond Pikmin 4
Check out the debut trailer below:
The original game for the GameCube launched in 2004, and it's not only a stellar turn-based RPG, but is also one of the best-written and funniest games in the whole franchise. The remake has some updated visuals (though the original game still looks wonderful thanks to its timeless style), but it sure does pop in HD.
It definitely is building off a lot of the systems from Super Mario RPG (which is also getting a remake on Switch), but it has its own slapstick twist that gives it its own identity. The series hasn't gone away, but more recent entries like The Origami King have been gradually moving away from the same traditional turn-based RPG mechanics of The Thousand Year Door and the original Nintendo 64 game.
One of the major themes of the Direct was that Nintendo seems to be really doubling down on Super Mario right now, which makes sense given how much a hit the animated movie was earlier this year. Between this, Super Mario RPG remake, Super Mario Bros. Wonder, Princess Peach: Showtime, Mario vs. Donkey Kong, and some updates to Mario Kart 8 Deluxe, if you're a fan of the Italian plumber who jumps a lot, you're eating pretty well right now. I'm usually a casual Mario fan, but The Thousand Year Door is one of my favorite interpretations of the series' world and mechanics. So I'm looking forward to jumping into the game again for the first time in almost 20 years.