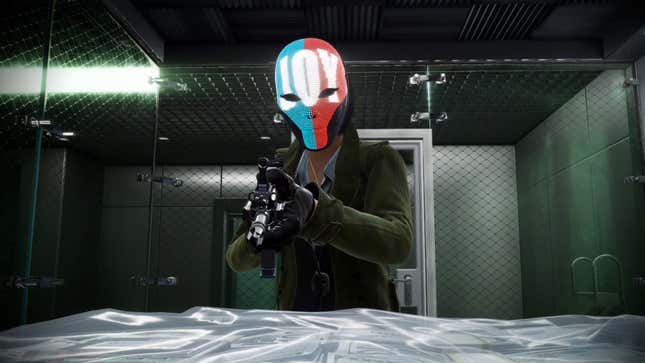 I walk up the stone steps of Brooklyn's Williamsburg Savings Bank just as the J train loudly scrapes by overhead. I'm here for an "immersive" Payday 3 hands-on experience, which includes a champagne tower that glitters and winks at me as soon as I cross through the double doors, an actor posing as a security guard haphazardly checking me for contraband, and two hours with the upcoming co-op FPS heist game.

Why The Hot New Redfall Gameplay Trailer Left Us Feeling Cold
"They're gonna do a Dark Knight," someone whispers as we're ushered deeper into the massive linoleum lobby of the nearly 150-year-old bank. The bank heist act they're setting up is obvious, predictable even, which is probably why no one is actually alarmed when several masked people dressed like iconic Payday characters walk in from different entrances, wielding plastic firearms.

Though many (rightfully) eye-roll at these kinds of game events, I've always found them charming. Perhaps it's because they're a marker of a bygone era of an industry that I never broke into and am morbidly curious about, or maybe it's because I love themed drinks, of which there are two available today. Either way, from the moment I walk through the massive doors of the "New" Williamsburg Savings Bank (rebranded for this very hands-on), to my sit-down with the game's lead producer, to hours later, when I emerge blinking into the New York evening, I certainly "experience" Payday 3.
Pre-order Payday 3: Amazon | Best Buy | GameStop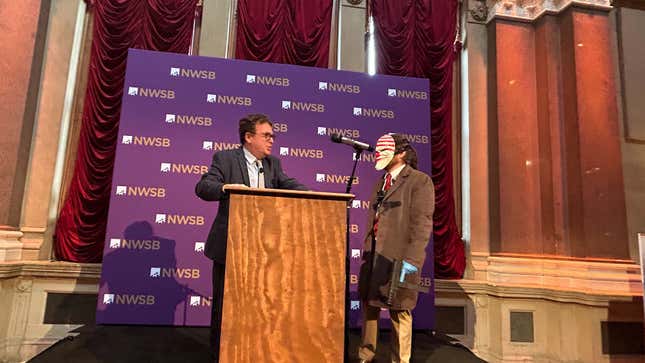 Hands-on with Payday 3
Some technical issues delay my Payday 3 hands-on session for nearly an hour, which can happen at these kinds of events. When I'm eventually moved to another computer capable of playing it, the other players in the lobby are mid-heist, so I have to wait for them to finish. When I finally join them, I quickly learn that despite Payday 3's sizable weapon customization, custom loadouts, perks, and more, I can't rely on just my shooter skills to get me through. My unfamiliarity with the franchise threatens to embarrass me.

Before we officially start, however, we tinker with our loadouts, items (like medkits, ammo, armor, and a zipline that lets you link cash bags to ziplines for quick transport), and skills–Payday 3 has new, extensive skill trees that you let you "research" a specific skill before entering a heist so that you can quickly unlock it after leveling up. None of this really matters, however, as I'm unceremoniously dropped in without a tutorial, and have no idea that Payday 3 has a new system called heist phases (search, negotiation, and assault), or that there are two ways to initiate the heist (stealth and loud).

I'm a fucking disaster from the jump. I can't tell if it's because my squad is composed of Payday vets or if the extra hour of playtime they just had helped, but I feel like a cat with my head in a brown paper bag from the moment we load into the first of two available levels (this one's a traditional bank heist that feels like a Payday 2 level). Unaware that the stealth mode is incredibly unforgiving, I almost immediately walk somewhere I shouldn't and trigger the search phase, with guards on high alert for shenanigans.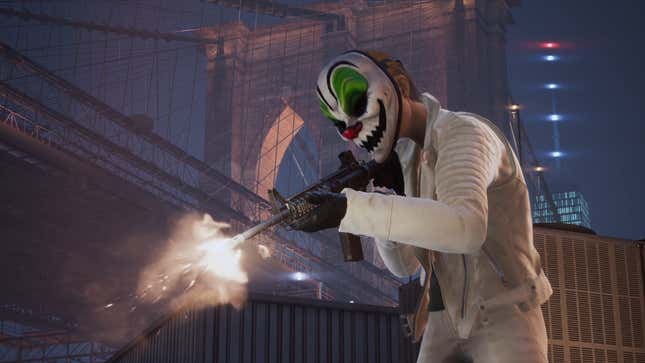 We're in a shoot-out faster than I can say "payday," and though my FPS skills are helpful here, I've no idea how to go about completing any of the tasks at hand. Add more thermite to the gently sizzling fire that's eating through the vault? I don't know where to find it. Take a hostage? There's no one in the bank but us. Feeling useless, I content myself with shooting any guards or cops that come in. See? I'm helping.

We fail our mission, however, and have to try the heist one more time. After successfully completing that one, we load up 99 Boxes, an entirely different kind of heist that requires us to break into storage containers in a massive shipyard.
It's clear that, between my inability to grasp Payday 3's heist phases and some of its rules (like the mask-off versus mask-on gameplay, which can restrict your movement based on whether you're donning the mask or not) and the noisy, distracting din resulting from the three dozen or so other people playing this game in the same room, that I am not good at this. A voice over our earpieces tells us where to go and what to do, but I still struggle to figure things out—and the lack of an in-game compass coupled with directions like "check the west container" only further confuses me.

But my ineptitude at the more nuanced aspects of Payday 3's game loop just means I can rely on the shooting, which I'm quite good at and which feels surprisingly modern, like a tightly packed, experimental Call of Duty level. Though this is nice for those of us who are bad at nuance and subtlety, I never get a chance to enjoy some of the more interesting aspects of Payday's gameplay–namely the stuff that feels more like a heist: negotiations, stealth, what have you. Nevertheless, my gameplay time is up, and it's time to chat with a developer.
Pre-order Payday 3: Amazon | Best Buy | GameStop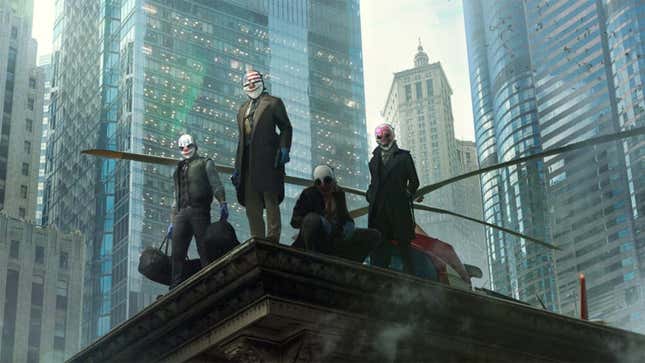 The future of Payday 

Early in my conversation with Andreas Häll-Penninger, lead producer at Starbreeze Entertainment, he likened the release of Payday 3 to a rock band taking the stage after a 10-year hiatus. "Now we're going to step up again, and our fans are worried…but it's still fucking Payday. That has been our strategy from when we started the game—we have to make sure that we capture the Payday feel and maintain what the franchise is about. [Payday fans] are our target audience," he said.

With a decade chasm between Payday 2 and Payday 3, Starbreeze was tasked with updating the game's gunplay while still maintaining the core tenets that make Payday stand out from your typical shooter. "Payday 2 today, in my opinion, feels a little clunky, it's slow, the controls are a bit weird—it has some old-school arcade charm, obviously, it's a classic, but we've evolved that into something that feels a bit more modern," Häll-Penninger said.

Naturally, in the quest to update the gameplay from a 10-year-old game, the team turned to major FPS titles for inspiration. "We looked at Call of Duty for that perspective," he said, but emphasized that the team also made sure to consistently reference Payday 2 so as not to lose the series' charm. "We want to maintain the typical moment-to-moment feel that Payday has."

Payday 2 has a notoriously high barrier for entry, and though my experience with Payday 3 felt similar, Häll-Penninger insisted that's not the case. "It's a game that's hard to learn, but it's easy to master…but that barrier has been trimmed down a little bit from Payday 2 to Payday 3 to make sure that it's easier to get into and enjoy with your friends."
I admitted to him that I struggled to understand what to do during my hands-on, and that I had to rely on my FPS skill to get me and my team through. "That's a part of the game," he replied. "You should always be able to pick it up and have fun, but if you want to master the art of heisting…there's a lot of things that you need to learn…I think Payday 3 is a game where you need to give it some time to experience its magic."
But will players want to give this new game time? Can it live up to a decade's worth of expectations? Payday 2 has been consistently supported for the last 10 years, and players expect as much from its sequel. Häll-Penninger tells me that the switch to Unreal Engine 4 was a massive challenge for the dev team, but will mean future updates will be far easier to implement than they were for Payday 2. And they'll certainly be happy with the $40 price point, considering the recent uptick in the cost of games means new titles like Starfield or the upcoming Modern Warfare III will run you $70 ("it's not a huge game, we have eight maps," Häll-Penninger pointed out). But will they be on board with buying the several DLCs Starbreeze has coming down the pike, especially when the rather extensive roadmap and its "seasons" have the all-too-familiar scent of microtransactions?
Fans' expectations aren't the only thing putting pressure on the dev team—Payday 3 was announced more than seven years ago, shortly after Starbreeze bought the franchise from Overkill Software for $30 million. Plaion, an Austrian-based media group owned by Embracer (the company that just shut down Saints Row studio Volition), added another €50 million to support Payday 3's development.
"It's been very volatile," Häll-Penninger admitted. "I've been there for 12 years, during 2018 we went into reconstruction after we released Overkill's The Walking Dead, which was a huge flop. We announced [Payday 3] before that, but it was in very, very early stages. So the real development kicked off around 2020." Though he told me it's been a "challenge," to get Payday 3 ready for players, the excitement of what he refers to as "front-row" fans keeps Häll-Penninger, and the development team, motivated.

Payday 3 may not technically have been in development purgatory for the last decade, but for fans, it may as well have been. We'll see if Starbreeze manages to live up to the heist hype when Payday 3 releases for Xbox Series X/S, PlayStation 5, and PC on September 21.
If you can't wait until then, there's an open beta running from September 8 to September 11.
Pre-order Payday 3: Amazon | Best Buy | GameStop
Update 9/8/23 at 10:10 a.m. EST: Updated Payday 3 price.