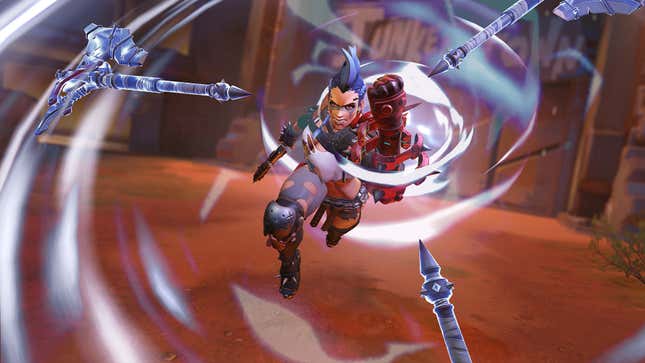 It seems like polarizing sequels retreating back to features from their earlier games is en vogue. After Call of Duty Warzone 2.0 promised a few tweaks to make the game feel more like the first one, Overwatch 2 is now joining in on the fun of reversing changes that made fans deeply unhappy.
Overwatch 2's New Story Missions: Worth The Money?
Player frustration over the availability of skins and cosmetics locked behind paywalls has been loud and clear since launch, and now Overwatch 2 is aiming to make hero fashion choices a little easier to get in season three. But don't get too excited; things are a little more complicated than that.
With a switch to a free-to-play format, Overwatch 2 hasn't had it easy in satisfying the community the series has built up since 2016. Battle passes, meager offerings from seasonal events, that darn Overwatch 2 shop holding all the cool stuff hostage, and fundamental changes to the game like a switch to 5v5 matches over the original's six-player skirmishes have soured this new generation of Overwatch.
But with a recent blog update, Blizzard is reintroducing Overwatch Credits as an addition to Overwatch Coins, the premium currency that carried over from the original game which costs real money. While Credits are intriguing on paper (and certainly sought after), the fuzziness around the specifics makes this feel like two steps forward, one step-and-half back.
Read More: We Did It, Joe: Overwatch 2 Will Make Ranked Suck Less
"In Season [three], we're bringing back Overwatch Credits," yesterday's season two post mortem blog says. These credits are a revision of Legacy Credits, earnable currency that was carried over from Overwatch 1. Those who played the first game are likely to have a number of these already, but there's no way to earn more of them in Overwatch 2; so if you're new to the series or don't have access to an old account, you were basically out of luck. That changes with season three as Legacy Credits are being converted to Overwatch Credits for everyone. The post states: "Now, all players can earn up to 1500 credits as free rewards and another 500 credits as premium rewards spread throughout Season [three] Battle Pass."
While the ability to earn credits to acquire skins sure sounds like a welcome change, it comes with a twist that many are finding a little uncomfortable. Once season three drops, these re-introduced credits seem to only be useful for redeeming "epic and legendary-tier skins prior to Overwatch 2 launch." Free credits sounds exciting, but the enthusiasm wanes when you realize these are just old skins from the first game.
Also, the credits are tied to the Battle Pass which can only reward up to 2,000 of them in a season. With the math Blizzard has laid out in this update, that means you can earn one new legendary skin per season. And I shouldn't say "new," because we're talking about skins from Overwatch 1. The blog states that Blizzard will be exploring future uses for Overwatch Credits. For now, their use is welcome, but still clearly lacking.
So, good news: It seems the frustration over cosmetic and skin availability and price is being heard. The bad news: The solution to this is being delivered in a very specific way that doesn't necessarily address ongoing concerns over newer skins, such as their lack of appeal and that too many of the newer ones are only available for purchase with real money. And to top it off, the skins you can earn for free via credits are from the first game.
Read More: Overwatch 2's Year Of The Rabbit Event Is Already Disappointing Fans 
Just as some CoD players have chosen to remain on 2019's Modern Warfare, I guess we'll just have to go back and play Overwatch 1 while the sequel is sorted out. Oh, wait.