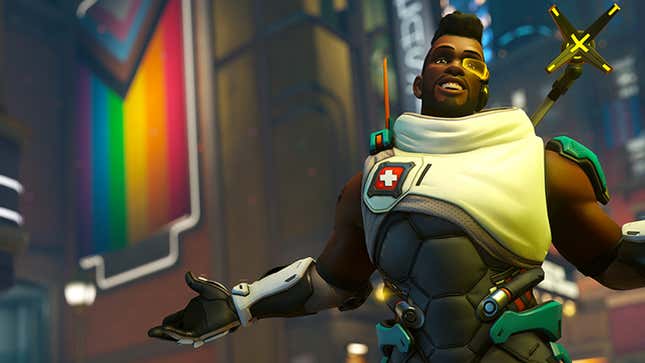 The Overwatch 2 Pride event is now live, and along with the confirmation that two more heroes are queer and a collection of themed player banners and icons, Blizzard has reskinned an NYC-based map so that it looks like it's set in the middle of a Pride parade.
Overwatch 2's New Story Missions: Worth The Money?
Read More: Overwatch 2's Pride Event Is An Earnest Start
But the map doesn't just have rainbow-colored walkways and LGBTQIA+ flags—it also, notably, doesn't have cops. First pointed out in a video shared by Overwatch content creator Niandra, the Pride version of the Midtown map has reskinned the cop cars parked in certain areas, turning them into nondescript SUVs.

Kotaku has independently confirmed that the police SUVs are now painted a soft blue-green rather than sporting police colors, and other cars around the map have little Pride signs on top of them. Interestingly, the official art released by Blizzard for the Overwatch Pride event, which features all of the official queer heroes on the Midtown Pride map, appears to have one of the original cop cars in the background. Kotaku reached out to Blizzard for comment.

This is a major move from the Overwatch team, as the presence of police officers at Pride events has been a huge point of contention for parade organizers and attendees. In 2021, New York City Pride banned police from marching in the parade until at least 2025, citing how the presence of officers can often be "threatening, and at times, dangerous" to those in the community rather than reassuring. Organizers also said they would focus more of the event's budget on trained community responders and volunteers rather than using the New York Police Department for security and safety.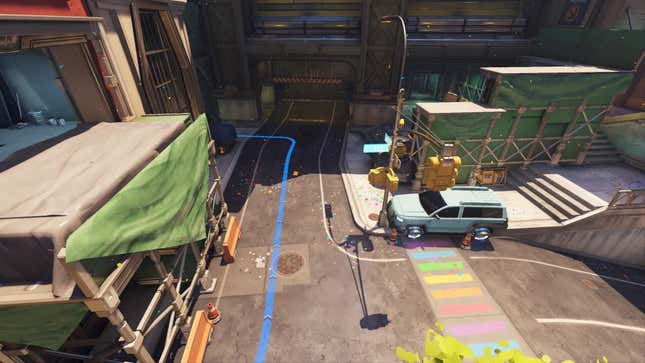 After NYC Pride made the announcement, other events across the United States followed suit, banning police departments from officially marching in their parades.
The decision to reskin the cop cars was likely not made lightly, especially when members of the Overwatch dev team worked hard to have a "substantial" Pride event this year, according to a tweet from senior writer and narrative designer Justin Groot.

Read More: Overwatch 2 Continues Franchise Tradition Of Putting Characters In Cop Skins
"No police at pride" is a movement within the LGBTQIA+ community, one rooted in the 1969 Stonewall riots and the violence police enacted against that community and spanning acts of police brutality against marginalized individuals that still take place today. "Pride should be safe and welcoming for all of us, but police participation excludes those of us with negative experiences of police and policing," reads the official No Police at Pride website.

It's great to see Overwatch 2 quietly removing something that feels so antithetical to the essence of Pride, especially since the game has continued to add cop skins for its characters despite protestations from players.