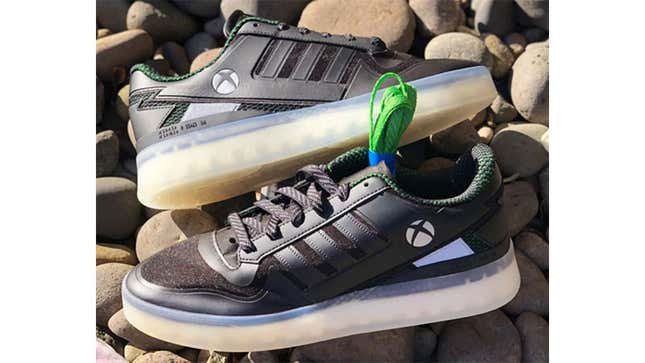 Nike and PlayStation have enjoyed a years-long partnership where a bunch of their shoes have become all-time classics. Both the console and sneaker businesses being what they are, we are now inevitably about to get a whole bunch of Adidas x Xbox shoes to compete.

They haven't been officially announced yet, but Complex got hold of some internal documents showing one of the shoes off, and if Adidas hoped that a targeted leak might take some of the shine off the new PG5 x PS5 collab, then they have...miscalculated.
These are trash! These are off-brand skate shoes you'd have bought at Costco in 2004. These are "nephew bugging me about games on my phone" shoes. The silhouette pictured above is a new shoe called the Forum Tech Boost, but Complex says a number of other models are releasing throughout 2021, including some basketball sneakers, so maybe they'll be an improvement!
Updated: 10/6/2021, 9:51 a.m. ET: The sneakers are now official.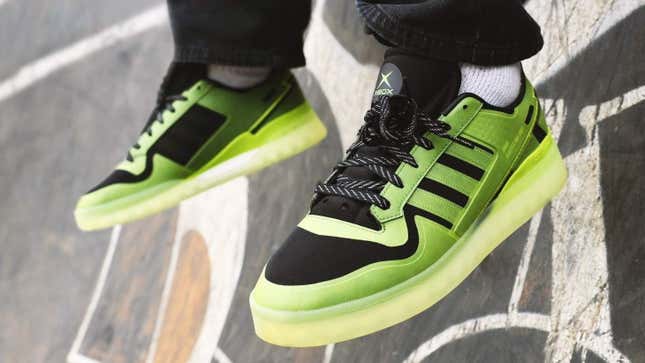 Seemingly called the "Xbox 20th Forum Tech," they sure are green. Significantly different from the image above, they're themed around the original Xbox, to celebrate its 20th, with the original logo on the tongue. As well as the absolutely awful video below, they find absolutely awful words when saying,
"The adidas Forum Tech design balances nostalgia while embracing modern technology and is symbolic of how we look at our own Xbox history — celebrating the last 20 years and looking ahead to the limitless future of gaming."
But are the shoes awful? That's your call, but you'd certainly show up nicely at night.
A bunch more sneakers are coming in this collab, so perhaps the originally leaked design might still come to pass. Hideously, they're calling the whole endeavor, "Always Played In. Never Played Out."