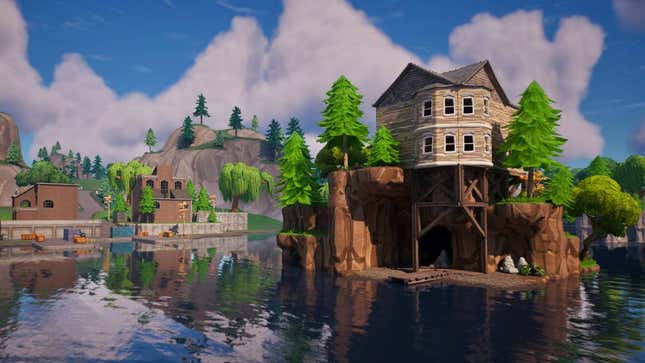 Last week, Epic Games announced that it would graft its industry-standard game engine into the most popular battle royale game on earth. Fortnite content creators are using the Unreal Editor for Fortnite (UEFN) to create all sorts of wild shit, including the original Fortnite map as it existed in chapter one, season three.
Dead By Daylight Devs' New Game Is Fortnite Meets Doom
It's not an official release from Epic, but the OG map comes from one of its partnered marketing companies. And the classic map looks so much better in the new engine. The current Fortnite map has snowy and mountainous terrain in its southern regions, but the old map is all lush, forested green. It's a nostalgia trip for anyone who's been playing Epic's battle royale since 2018. Five years later, they can finally relive the good old days.
Read More: Fortnite Is About To Blow Wide Open Thanks To The Unreal Editor
There are some differences between the original Fortnite map and the new OG Battle Royale map recreation. Epic limits creators to 100,000 individual prop pieces. So the developers removed the grass, the jail location, floor loot, supply drops, some props, and certain gameplay mechanics. In total, around a fourth of the original OGBR content has been removed. The official Discord says that the developers are working to restore some of the prison area, but some of the cosmetic cutbacks will be permanent.
The game currently supports solo mode for 30 to 50 players, and the developers say they plan to raise that number to 100 in the near future. There are also technical limitations beyond the memory restrictions. For example, the developers deemed it "impossible" to restore the weapons to their original forms. Sprinting and mantling, movement abilities in current Fortnite that didn't exist back in chapter one, have been removed. Bugs are still being fixed, but you can access the beta by entering 2179-7822-3395 in the island code section underneath the "Discover" tab.

The OGBR may be a remake of an older map, but the launch of UEFN is going to bring a ton of fascinating new creations to Fortnite as well. And the technology is only going to evolve as Epic further incorporates their engine into their most popular game.