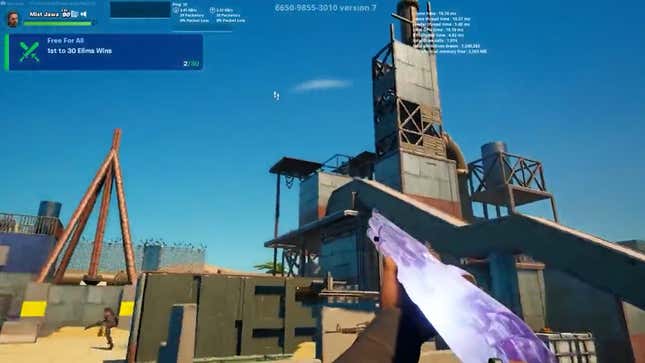 Kotaku reported on March 23, 2023 that Epic Games had outlined specific do's and don'ts when it comes to what kinds of maps creators can build and publish using Fortnite's new Unreal Editor. Essentially, any map from another game (including certain Fortnite maps from previous seasons), isn't allowed. With Call of Duty-inspired maps now being removed from the service, it's clear Epic wasn't bluffing.
Dead By Daylight Devs' New Game Is Fortnite Meets Doom
Back in March, Epic Games rolled out an enormous update to Fortnite's creative mode. Using the new Unreal Editor for Fortnite, creators can build all sorts of maps and game modes directly into the game and distributethem using simple map codes. Creators also have the opportunity to monetize these creations, with payment amounts attached to engagement metrics.
Epic Games recently stated that while fans could recreate select maps from previous Fortnite seasons, no one is allowed to build maps from other intellectual properties. This would include, as Epic Games CEO Tim Sweeney stated himself in a recent interview, popular maps from games like Call of Duty. One Fortnite map creator has recently taken to Twitter to state that their CoD recreations have been removed and that they won't be "recreating any copyright maps."
Popular Fortnite creator has maps removed from the game
Tweeting on April 3, 2023, Mist Jawa stated that they will "no longer be creating any copyright maps." Answering a question in a tweet reply as to whether their previous maps were taken down by someone other than themselves, they simply said "yes 😔."
Aside from the maps being removed from Fortnite, Mist Jawa also said in their main tweet that they "removed all tweets and YT videos related to the topic." Mist Jawa told Kotaku that they had received a DMCA takedown notice requesting the removal of their Call of Duty map recreations.

While Mist Jawa has removed any footage of their CoD recreations in Fortnite, a tweet from esports commentator Jake Lucky tweeted out some footage of one of Jawa's maps, featuring first-person shooting and a build of Call of Duty's infamous "Rust" map.
Kotaku has reached out to Activision, and Epic Games for comment.
While it's no surprise to see action taken against these maps after Epic Games explicitly stated that it wasn't allowed, map recreations in different games are nothing new. Halo's own Forge map creator has been used to recreate Call of Duty maps ever since the feature appeared in Halo 3.
Though Halo's Forge and other map creation tools in other games haven't had the same built-in monetization economy like the Fortnite creator program does, Epic Games has stated that recreations aren't allowed to even be built using the Unreal Editor tool, let alone published or monetized, making it an especially strict policy.
Update 04/05/2023, 5:00 PM EST: This article has been updated to include a statement from Mist Jawa.