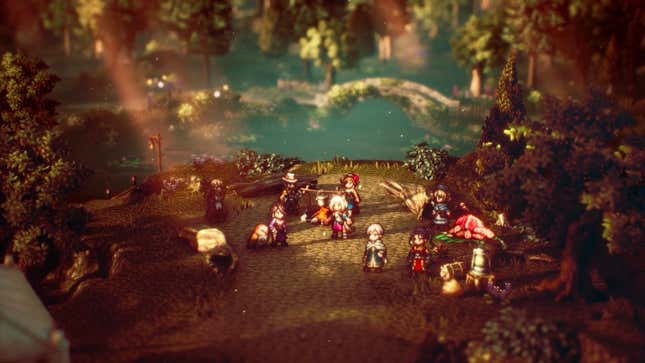 During today's Nintendo Direct presentation, the company briefly talked about Square Enix's upcoming turn-based RPG Octopath Traveler 2, which launches on February 24 for Nintendo Switch, PC, and PlayStation consoles. Nintendo also revealed that a free demo will be available later today. The best part, though, is that if you happen to check the demo out, your save progress will carry over to the full game should you choose to purchase the sequel. Cool!
HD-2D, The Unique Retro-Inspired Art Style, Took Off In 2022
Octopath Traveler is Square Enix's award-winning and critically-acclaimed pixelated RPG in the vein of the OG Final Fantasy games. Originally launched as a Switch exclusive in July 2018, Octopath Traveler garnered favorable reviews among critics for its captivating visuals and innovative battle system, going on to score an 83 on Metacritic and an 84 on Open Critic. The sequel, announced in September 2022, appears to be largely following the original's lead.
Read More: Octopath Traveler: Champions Of The Continent Is Better Than The Nintendo Switch Original
Octopath Traveler 2, while bearing an obvious resemblance to the previous game, follows a whole new set of characters in an entirely separate setting. So, it appears as if you don't need to have played the original to pick up the sequel. However, having some experience with it might help, especially with the game's battle system.
In the Octopath Traveler 2 demo, you'll get to play the game's "opening hours." According to Square Enix's YouTube channel, play can for up to three hours, with "travel beyond the starting areas" being restricted. Regardless of how much time you put into the demo, the progress you make will transfer to the full release when Octopath Traveler 2 comes out toward the end of this month.