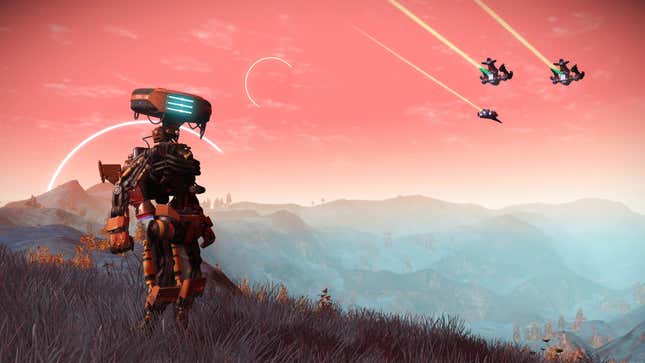 Spacebound survival game No Man's Sky received a massive surprise update early on June 7, expanding on April's stocked Interceptor update. This one, christened the "Singularity," is "part expedition and part update with a ton of new content, story, gameplay and some of our most exciting rewards," developer Hello Games founder Sean Murray wrote in a PlayStation news blog.
The Witcher 3 Meets Tense Roguelike PvE Card-Battling In Rogue Mage
Those rewards include several cosmetics, like the Discordant Jetpack Trail that makes your smoke purple, and the game's "first new full customisation set for several years," patch notes say, the Construct Customization set, which turns your lonely Traveler character into a lithe robot.

The rewards are cute garnishes, but the real purpose of Singularity is to play as "chapter two of a four-part narrative which will play out across this year," Murray says in his PlayStation blog, continuing the story Interceptor started.

Everything you need to know about the latest No Man's Sky update
The five-week-long event—which is meant to "begin shortly," according to patch notes, though it's technically released today along with the rest of update 4.30—will have players "unveil a little of the history and origin of the harmonic camps in a mystery that touches upon artificial intelligence, the will to exist, and the very nature of what it means to be alive," say patch notes. Expect disembodied robot heads and a mystery.
The trailer, which also released early June 7, sets players up for expecting as much. In it, the spacefaring game looks infinitely gorgeous like usual, taking players into lime-colored space dense with asteroids and enemies. Wandering these desolate skies should be a bit easier, since update 4.30 introduces a number of quality-of-life improvements, too, like better PlayStation load times and a virtual keyboard for PC VR players to give names to their discoveries.

As is standard for all No Man's Sky updates, no matter how large, Singularity is free on all platforms, which now includes Mac.