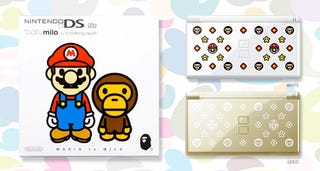 A limited edition console collaboration between streetwear company A Bathing Ape and Nintendo.

Blue/Black

A red & black DS Lite with Chinese motifs, available only in the Chinese market

White

Pokémon Dialga and Palkia edition

Enamel Navy, otherwise known as "that dark blue one"

Special Final Fantasy III console

Another Final Fantasy-branded console, this time for Ring of Fates

And whaddya know, another Final Fantasy console, for Revenant Wings

Giratina Origin Forme, a Europe-only console available for Club Nintendo members

GLoss Silver

Special Guitar Hero On Tour-branded console

DS Lite branded with Gundam livery

The Honeyee x Fujiwara DS Lite, probably the nicest-looking DS ever made.

Ice Blue

Jet Black

Jump Ultimate Stars console, available to readers of Japanese magazine Weekly Jump

Lime Green

Love and Berry DS Lite, which came with a card reader

Mario Red, with Mario's iconic "M" on the front

Metallic Rose

Nintendogs DS Lite, available as part of a bundle with versions of the game

Noble Pink

Phantom Hourglass limited edition console

Pink Ribbon DS Lite, with proceeds going towards breast cancer foundations

A slightly tacky Pirates of the Caribbean DS Lite, given to those attending the première of the movie by the same name.

Pokémon Center Pikachu DS Lite, available only in Japan

Special DS Lite available only to members of Japan's Pokémon Daisuki Club

Red

Red/Black

With Nintendo enjoying close ties with the Seattle Mariners baseball club, the company released this MLB team-branded console, which is available only at the Mariner's Safeco field.

Another China-only DS, this time with Mario on the front of the unit

Turqoise

A limited run of these were made by Nintendo and THQ, featuring an amazing Space Marine motif on the back.

A Winning Eleven DS Lite, complete with footballing strategy sketches all over it.

Yet another Square Enix-branded DS Lite, this time for A Wonderful World/The World Ends With You

Fancy DS Lite consoles handed out to dignitaries at a recent G8 summit in Kyoto