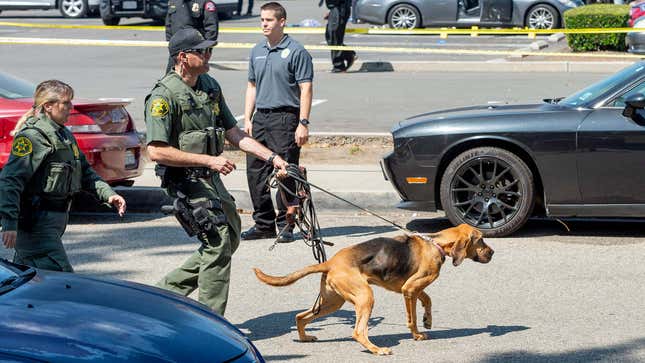 Today a college campus will have extra police officers and K9 units walking around after a joke email from a student to a professor. The student asked the professor to cancel class due to an upcoming "once-in-a-lifetime event." The event? This afternoon's much-hyped Nintendo Direct.
New Pokémon Scarlet And Violet Trailer Features Hot Profs, 4-Player Co-Op, And Lechonk, The Hero We Deserve
Yesterday, Nintendo surprised everyone with the news that it had a 40-minute Direct presentation set to premiere February 8, which is today. The last big Nintendo Direct happened in September 2022 and provided new information about The Legend of Zelda: Tears of the Kingdom and Fire Emblem Engage, so people are excited to see what the company is going to show off this time. Even Nintendo of America President Doug Bowser is hinting at a big show. And so, with all this excitement, a student at California State University decided to jokingly ask their professor to cancel class, which was set to happen at the same time as the Direct, and in so doing caused a whole lot of panic.

Late last night, the California State University of Fullerton Police were "made aware of a perceived vague threat" to the school via an email sent to one of the university's professors. According to police, the email referenced a "once-in-a-lifetime event" that would occur on February 8, 2023. Police said the individual who sent the email urged the professor to "cancel class for the good of humanity." This quickly led to its recipients worrying that the email was a warning before a possible shooting or other act of violence.
As explained in a CA State Fullerton Police press release tweeted earlier this morning, "after hours of investigation" by CSUF detectives, they realized that a Nintendo Direct was happening at that exact date and time, and that was what the email was about. Police then confirmed that the person who sent the original email, currently believed to be a student, replied to the professor via another email and admitted that it was all a "bad joke" referencing today's Direct.

However, while police now understand it was all a joke, out of an "abundance of caution" CSUF explained that there will be additional officers on campus today, including "student Community Service Officers and Community Service Specialists" as well as the department's K9 team, who will all be "highly visible" walking around the campus and its various buildings.
"We understand that a threat of any kind, real or not, causes many to fear for their safety," explained Acting Police Chief Scot Willey, "Please know we will do all we can to ensure the safety of our campus community."

Kotaku reached out to the police, who confirmed they still don't specifically know who sent the email but that the sender regrets the whole situation, saying that it shouldn't have happened. Police tell Kotaku that there was no threat of violence happening whatsoever.

Nintendo's next Direct happens today at 5 p.m. ET. Please don't send any vague or threatening emails to your boss or teacher about it. Please.