The smaller version of Nintendo's more powerful New 3DS line of handhelds may finally make it to North America, thanks to popular demand. At least that's what we think Nintendo of America president Reggie Fils-Aime was hinting to me when we discussed Nintendo's most capable handheld at E3.
"So we've got nothing to announce here," Fils-Aime told me after I mentioned to him that many Kotaku readers have been clamoring for the release of the smaller New 3DS in North America. "We've certainly taken note of all of the readers and consumers that expressed desire for the base model."
That's not much of a hint, right? Ah, but when I asked him why Nintendo of America hadn't brought both New 3DS models to North America—the big "XL" one we have now and the smaller one with the changeable faceplates that we don't have—he added:
"We analyzed the results in Japan and saw the lion's share of the volume was on the XL model, and that's with no 2DS existing in the Japanese market. And so as we thought about: 'What's the best line-up for us?' We thought the new XL and 2DS would be our best line-up. Not going to make any promises but, you know, I would suggest to your readers that they stay tuned and maybe some special SKUs might show up."
The term "SKU" basically refers to models.
G/O Media may get a commission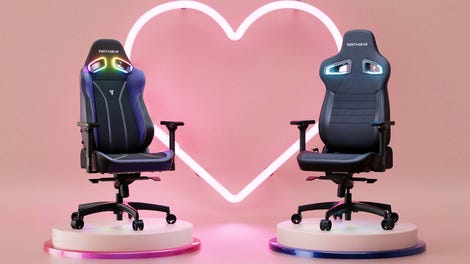 Up to $150 off
Vertagear Gaming Chairs
What about exclusive New 3DS games? Since the system's launch in Japan last year and its subsequent launch in Europe, North America and elsewhere, there has been only one Nintendo-published game made just for the more powerful New 3DS. All other 3DS games work on new and old models. Even at E3, new games including a Zelda and a 2016 Metroid spin-off are made to run on the standard 3DS and New 3DS.
Fils-Aime said that Nintendo is trying not to split its New 3DS user base, but noted that Amiibo-centric games such as Animal Crossing Happy Home Designer, benefit from the New 3DS' built-in sensors. To use an Amiibo on a traditional 3DS, you need a peripheral.
There will eventually be more games made just for the New 3DS, Fils-Aime confirmed. "There are digital games coming out that are specific to New Nintendo 3DS." Those download-only games are unannounced, for now.
To contact the author of this post, write to stephentotilo@kotaku.com or find him on Twitter @stephentotilo.