On May 14, 2018, when the Supreme Court overturned the ban on sports betting, New Jersey legislators hurried to update the state's 2014 sports betting law. Back in 2014, Jersey lawmakers had passed a law permitting sports betting at casinos and racetracks, but the law couldn't go into effect until the Supreme Court overturned the Professional and Amateur Sports Protection Act (PASPA). Ever since the Supreme Court decision, New Jersey has rushed to put together an updated sports betting bill, and over the course of their deliberations, state legislators added in a ban on esports betting.

New Jersey legislators already had an initial draft of the bill in the works leading up to the Supreme Court decision, so on May 14, 2018—the same day that PASPA got overturned—legislators brought out the pages and started deliberations. These initial pages didn't mention esports, but they did include a ban on some forms of sports betting in the following sentence: "A prohibited sports event includes all high school sports events but does not include international sports events in which persons under age 18 make up a minority of the participants."
Legislators added numerous changes to the rough draft of the bill before finalizing its language and voting it forward to the governor's desk on June 4, 2018. Between the May 14 draft and the June 4 vote, esports somehow got added into the mix.
The June 2018 version of the bill, which has passed the legislature and now just needs Governor Phil Murphy's stamp of approval in order to become law, has added esports into the clause about prohibited sports bets. The new sentence reads: "A prohibited sports event includes all high school sports events, electronic sports, and competitive video games but does not include international sports events in which persons under age 18 make up a minority of the participants."
New Jersey legislators did not respond to repeated requests for comment from Compete about the wording of the law, but as written, the sentence may leave some wiggle room for esports betting operators. For example, Blizzard Entertainment's Overwatch League features international esports teams and requires that all participants be over the age of 18. The League of Legends Championship Series, which is also an international competition, stipulates in their rulebook that all competitors must be at least 17.
G/O Media may get a commission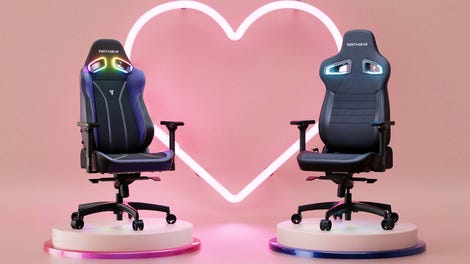 Up to $150 off
Vertagear Gaming Chairs
Sports attorney Daniel Wallach theorized to Compete in a phone interview that esports betting could happen "on a case-by-case basis. The existing licensed betting operators in New Jersey can request permission from regulators to accept wagers on esports competitions, so long as it does not violate the prohibition contained in the legislation."
"The whole point of this piece of legislation was to replace the partial repeal law that was enacted in 2014 that was just decriminalizing betting on professional and amateur sports," Wallach explained. "That original law from 2014 was only dealing with sporting events. It wasn't dealing with esports… This bill was introduced fairly quickly, and the legislature's goal was to move it fast and get it into the hands of the governor so that Monmouth Park and the other racetracks and casinos can be operational as soon as possible without ceding ground to other states."
But esports betting and esports as a whole are still relatively uncharted territory, and in 2014, when New Jersey first put a law on the books about sports betting, the League of Legends Championship Series was in its infancy, and Overwatch League was years away from existing. Nevada allowed the first-ever legal esports bets two years later in 2016, after William Hill US "received permission from the Nevada Gaming Control Board to offer betting on an esports competition," Wallach explained. By 2016, New Jersey had already been fighting against the sports betting ban for five years, with their last option being a petition to the Supreme Court. As New Jersey's journey towards legalization moved slowly forward, the esports industry continued to grow and change.
In the early 2010s, the world of esports betting mostly revolved around "skin betting," the practice of using items from games like Counter-Strike as tokens in online wagers. The Washington State Gambling Commission brought criminal charges against skin gambling rings in 2016, which shut down most of the major players, but smaller sites continued to offer unregulated, scam-filled bets to anyone willing to risk it—including underage bettors.
Although NJ lawmakers did not clarify to Compete as to why this specific language ended up in the bill, Wallach speculated that it could be due to esports betting's shady reputation. "You have to remember, PASPA just fell a couple of weeks ago. We're starting from scratch here, and esports potentially presents greater integrity issues than traditional sports, for the reasons that have been written about extensively," Wallach said. Debates over how to include esports betting in the bill could have slowed down its progress, and Wallach believes that New Jersey didn't want to wait that long.
"I think the goal is not to stamp out esports betting, but to just confine the current law to traditional sports betting, as was the intent of the 2014 law," Wallach went on. "This was wholly unique to New Jersey's history of litigation and to replace what was an obsolete law... The goal here is speed and expedition, and to treat or to focus on sports betting, not to think of all these other forms of betting that they can add in."
New Jersey lawmakers could stand to reconsider esports betting operators' case, though, because a lot has changed in the years since New Jersey put forth their 2014 law. The esports betting industry has tried to clean up its act and shake off its sketchy reputation, thanks in part to the founding of the Esports Integrity Coalition in 2016, as well as esports-focused betting operators like Unikrn, founded in 2014. Via email to Compete, Unikrn's CEO Rahul Sood spoke out against New Jersey's clause about esports betting.
"I think the clause around electronic sports and video games was added as a last minute item—and there is really no clarity around it," Sood wrote. "With that said, any type of language seems completely counter to what such regulation is designed to do: protect consumers. Without regulation, illegal skin betting and online gambling will continue to plague the space and steal revenue from the United States. Worst of all, bad operators will continue to prey on people who should not be allowed to gamble in the first place—not to mention these people operate sites that are clearly ripping off consumers without any consequences."
"It's the entire reason Unikrn exists," Sood went on. "If regulators need help understanding this space, we're happy to help."
The Esports Integrity Coalition commissioner Ian Smith, a UK-based lawyer, had a more optimistic read on the bill. "I think NJ sports books will still be able to offer wagers on esports events taking place globally," Smith told Compete via email. "If I'm right, then I can see some sense in the provision."
However, says Smith, if New Jersey legislators claim that the wording of the law prohibits all esports betting—including international events featuring 18+ competitors—then, he says, "the provision is not helpful or based in reality, and certainly flies in the face of the NJ Division of Gaming Enforcement's previous attitude to betting on esports. In this worst case scenario, the legislature will clearly undermine the sporting integrity of these kind of events, because gambling will still occur on them both inside and outside NJ on the black and grey markets, and we will have less scrutiny of the betting and no regulatory control, which does nobody any good."
The reason New Jersey rushed this law through, according to sports attorney Daniel Wallach, was to "replace an antiquated law" that NJ already had in place. But also, there was money to be made from getting a new law on the books, because the implementation of taxation would allow the state to "share more directly in the gaming revenues."
"All the lawmakers are seeing big dollars from sports betting," Wallach explained, "And I'm not sure there's an appreciation of the size and scope of the potential esports wagering market."
Rahul Sood believes that's a mistake. "Casinos are missing a massive opportunity to engage their future customer right now," Sood told Compete. "No amount of slot machine magic is going to change this. Our customers laugh at slot machines. They just aren't interested."
Other states aren't going to rush as much as New Jersey did, though, except for Delaware, a state that also already allowed minimal sports gambling (specifically, NFL parlays) before the Supreme Court decision. Delaware has since pushed out an updated bill that allows casinos to offer bets on traditional sports. That bill doesn't mention esports, but for now, casinos in the state haven't yet offered esports contests alongside their first legal sports bets. Other states, theorizes Wallach, will probably take their time to deliberate all of the options—including the question of esports betting.
"I believe that states are going to proceed very cautiously as opposed to trying to rush something out," said Wallach. "That's evidenced by the fact that only two states have passed sports betting laws in this calendar year, despite the expectation that the Supreme Court would overturn PASPA. 20 bills have been introduced, but only two have actually gone forward and been enacted into law… As these states move forward, and their sports wagering markets become more mature and all the kinks are ironed out, certainly as things move forward, there will be an opportunity to amend existing laws to potentially allow for esports betting."
Compete is Deadspin and Kotaku's joint site dedicated to competitive gaming.