Describing Konami's new action-horror shoot 'em up NeverDead is something of a challenge for producer and game designer Shinta Nojiri. It's a game that might require some re-education, due to its rather unique gameplay system.
The basics are that NeverDead's main character, Bryce, is immortal. He's been that way for 500 years. And while age, loneliness and an inability to die may have made him a touch cynical and sarcastic, he has, Nojiri says, "a sense of justice." (Although Bryce appeared as something of a wise-ass in the latest NeverDead trailer and that his partner sometimes shuts him up by shooting him in the face, Nojiri says this is a serious game. Deadly serious.)
So, instead of pulling odd jobs for booze money—Bryce doesn't need to eat, but does enjoy drowning his sorrows, apparently—he signs up with the National Counter Demon Agency. The anti-demonic organization operates in secret, under the guise of a governmental health agency, a mystical version of the G-men from Men In Black.
Bryce and his prettier partner Arcadia, a relatively normal human being, are working together to fend off the return of the Demon King. That big bad defeated Bryce 500 years ago, so they have some history.
G/O Media may get a commission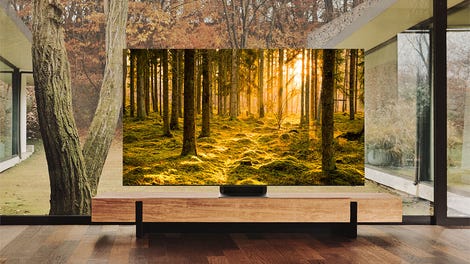 Up to 40% off
Samsung Smart TVs
Oh, and the Demon King's responsible for Bryce's immortality, the reason why the demon hunter can have his arms, legs and head ripped off and still continue. Players will be able to control Bryce's decapitated head if it's separated from his body, rolling it around the battlefield until it can reconnect with his bit and pieces.
And while Bryce is immortal, his partner Arcadia isn't. If she dies, it's game over. (Nojiri says there's a second game over condition, but won't say what it is.)
NeverDead's gameplay, Nojiri says, is rather unique for a third-person shooter. Sure, it features a sword-and-gunplay combo system, a la Devil May Cry, but Nojiri insists it's more strategic, less "automatic" than Capcom's action series. There's gun play, an unidentified sword intriguingly based on a butterfly knife design and the prominent limb-lopping gimmick.
Players will need to strategically think about the best times to use some of Bryce's immortal abilities, like the option to self-dismember himself. That's a skill that Bryce will unlock by spending experience points earned in battle and a technique that can give him an advantage on the battlefield.
How? In some circumstances, it may be better to let a demon gnaw on your arm while you focus on other enemies with your free arm. Sometimes, it may be better to lob an arm over a wall, letting it fire wildly until you can compose yourself. Maybe it would be better to let a ceiling collapse on you and your foes, because, hey, you're gonna be just fine.
While we haven't played NeverDead, its prospects are intriguing. Add to that cooperative modes distinct from the single-player campaign that let players play as Bryce and Arcadia—or two Bryces—and some of the game's demons, and we're now dying to learn more about NeverDead.