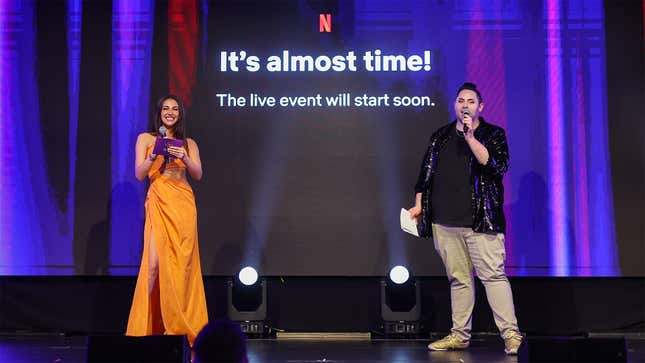 On April 16, Netflix viewers looking to enjoy the Love Is Blind live reunion special had to endure what so many live-service gamers have gone through before: Upon logging in at the promised kick-off time of 5 p.m. PT, would-be viewers were greeted not by the special but a perpetual "It's almost time!" screen. The coming-soon screen lingered long past the show's purported start time, prompting fans to turn to Twitter to air their grievances and wonder WTF was going on.

Netflix's Junji Ito Anime Fails To Break The Terrible Horror Adaptation Curse
The Love Is Blind livestream failure had whiffs of Overwatch 2's unplayability at launch due to a DDOS attack and Diablo IV's lengthy queue times, reminding gamers who also love reality TV that sometimes, the things we love are unwatchable and unplayable precisely when we want to love them most.

Read More: Veteran Halo, Destiny Director Joins Netflix Games

Love Is Blind is a Netflix original reality series in which contestants who are lacking in the love department date people through an opaque wall in an attempt to prove that love is, indeed, blind. If they fall in love during this wildly heteronormative process (it's only ever straight couples), the man can propose to the woman, after which their worldly visages are revealed to each other. They then immediately go on vacation together, where they meet the other people they were dating face-to-face who ended up with different cast members, before moving into an apartment with their fiances, and eventually walking down the aisle.
The show is wildly popular on social media mainly because a fair few of the contestants on each season prove to be absolute menaces to society, and season 4 was no exception. The decision to livestream the finale marked the second time Netflix has ever done a live broadcast, the first being Chris Rock's March 4 stand-up special.

Netflix's Love Is Blind live reunion failure explained
At first, when the livestream clearly wasn't working, the official Netflix Twitter account apologized to those who were keen on watching the drama kick off in real time and promised the stream would be up soon, suggesting that the cast of Love Is Blind season 4 and the show's hosts (Nick and Vanessa Lachey) were sitting on the reunion set, fully done up, just waiting.

Netflix knew fans wanted to see cast member Irina Solomonova held accountable for what many believed was atrocious behavior throughout the season (she was dubbed a "mean girl" by viewers and apologized for how she treated her fellow cast members), sharing a picture of her and promising that the reunion would be "worth the wait."

As more and more time passed, however, social media started getting all kinds of spicy. The official Blockbuster account (remember, the in-person video rental store that was the sole source of entertainment for Xers and millennials across the U.S. before streaming services destroyed physical media) reminded Twitter that when "renting VHS' from us. You could start it on time no problem…" Redbox, the company that sort of transitioned us from Blockbuster's death to the boom of streaming services (you could rent movies from what was basically a vending machine in 7-11 parking lots), replied to Blockbuster with "solidarity, bro."

President and co-founder of game studio Young Horses (the folks behind Bugsnax) likened the Love Is Blind letdown to the experience of MMO and live-service game players.

Sportscaster Stephen A. Smith managed to drag Netflix while poking fun at himself, too, quote-tweeting himself from 2015 when he tried to share an image but accidentally only sent the image file name, adding, "Netflix servers right now."

Bravo, the channel best known for the Real Housewives franchise, Andy Cohen, and being the epicenter of the #Scandoval that's currently rocking the reality TV universe, threw some shade at Netflix, too, tweeting "we would never keep you waiting for a reunion." That's good to know, because if the Vanderpump Rules' reunion doesn't air on time, I will riot.
Some frustrated fans pointed out that Netflix has continuously raised prices and cracked down on password sharing, just to be incapable of doing what cable TV has done for the last 60-odd years.

Eventually, the streaming service had to tell fans that the Love Is Blind reunion wouldn't be globally available until April 17 at 12 p.m. PT. The incident's made for another hilarious example of Netflix fucking up while still raking in millions: from canceling beloved shows, to firing a chunk of its editorial team, to bizarrely branching off into games that no one knows how to play.
Anyway, here's hoping that in the inevitable future world where every major TV show has its own streaming service and they each cost $10 a month and run ads every 15 minutes and only let you watch them on one device, they'll be able to figure out how to do a live broadcast.