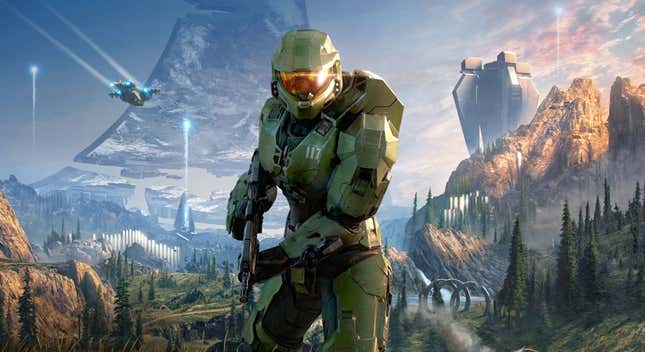 Halo and Destiny veteran Joseph Staten just announced that he is joining Netflix Games as its newest creative director, and that he'll be helming "a brand-new AAA multiplatform game and original IP."
Top 10 Most-Played Steam Deck Games, October 2022 Edition
"In my work life, there's nothing I love more than collaborating with others to build worlds filled with iconic characters, deep mysteries, and endless adventures," he wrote on Twitter.
Staten has a lengthy history with Bungie and 343 Industries. According to his LinkedIn profile, he served in various roles at both companies since 1998, starting with his role as a product manager on Myth II: Soulblighter at Bungie. He then went on to work as the director of cinematics and writer for Halo: Combat Evolved, Halo 2, and Halo 3 . He wrote a novel set in the Halo universe called Halo: Contact Harvest and worked as creative director on Halo 3: ODST before switching over to Bungie's next darling: Destiny, where he was co-creative director. Staten left Bungie in 2013, and worked for Microsoft as a senior creative director for some time, but was brought back into the Halo fold at 343 Industries as Campaign Project Lead for Halo Infinite in 2020, presumably to help the game after it was delayed due to quality concerns. His title was eventually changed to head of creative.
On April 7, Staten announced that he would be departing Xbox. Three months before his most recent departure, he left 343 Industries to work in the publishing side of Xbox. The studio had undergone significant restructuring, and Bloomberg's report indicated that his former position was lost to that restructuring. Kotaku reached out to Staten over DMs to ask why he chose Netflix over other developers, but did not receive a response by the time of publication.
Netflix currently houses over 50 games, and almost all of them are indies. Last November, journalists spotted Netflix job listings that suggested the streaming giant was developing their first PC title. The game director position asked for Unreal Engine experience and first-person shooter experience. So it's possible that we'll be seeing another shooter from Staten sometime in the future.
While Netflix has invested significantly in developing a gaming division, it's not a real contender in the space yet. In fact, a lot of people don't even know how to play the games that the streaming giant does have. Just last year, Netflix published data that showed only 1 percent of its subscribers were playing its games. Meanwhile, the company lost over a million subscribers in the second quarter last year. Game development is an expensive and risky endeavor, and tech giants like Google and Amazon have already shown that tech giant money doesn't necessarily translate into success. It'll be some time before we can see if Staten's leadership will change the narrative.