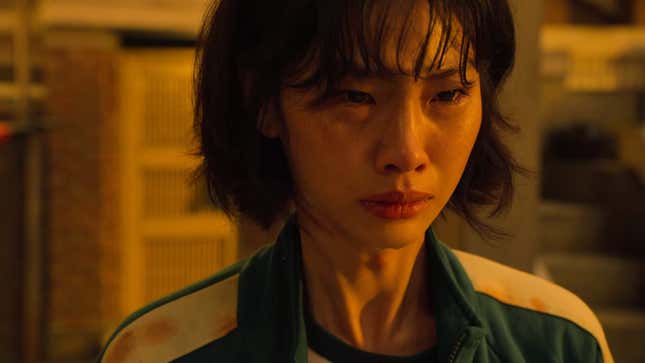 Update 2/6/2023 10:05 a.m. ET: Netflix, Studio Lambert, and The Garden issued a comment to Kotaku about Squid Game: The Challenge contestants claiming the show was rigged and subjected them to unsafe working conditions.
We care deeply about the health of our cast and crew, and the quality of this show. Any suggestion that the competition is rigged or claims of serious harm to players are simply untrue. We've taken all the appropriate safety precautions, including after care for contestants – and an independent adjudicator is overseeing each game to ensure it's fair to everyone.
Netflix's Junji Ito Anime Fails To Break The Terrible Horror Adaptation Curse
The original article continues below.
Remember when we all thought the idea of turning Netflix's Squid Game into a real-world reality show was a bad idea? Turns out we were right because a bunch of contestants are seeking legal action against the Netflix-produced reality show for unsafe working conditions, trauma, and participating in what they claim was a rigged competition. The Squid Game reality show just wrapped up filming last Monday.
Originally reported by Rolling Stone, four former contestants of Netflix's Squid Game: The Challenge allege that the streamer and its co-production studios, Studio Lambert and The Garden, subjected them to inhumane working conditions. Squid Game: The Challenge was originally announced in June last year following the success of the mega-popular Korean drama which got 1.65 billion hours viewed within its first 28 days on the streamer. In it, 456 players competed in recreations of the show's popular games like "Red Light, Green Light" for the chance to win $4.56 million.
Read More: Netflix's Squid Game Is A Furious Prophetic Show That's Taking The World By Storm

"All the torment and trauma we experienced wasn't due to the game or the rigor of the game," a former contestant told Rolling Stone. "It was the incompetencies of scale — they bit off more than they could chew."

According to previous reporting from IndieWire, 10 contestants required medical attention for injuries they suffered while filming the reality show, chief among them being pneumonia, a herniated disc, a torn knee tendon, and an ear infection. According to IndieWire, contestants were asked to stand still while playing "Red Light, Green Light" at 26° Fahrenheit (-3° Celsius) weather in 30-minute increments during a nine-hour filming session.

At the time, a representative from Netflix told IndieWire that it "invested in all the appropriate safety procedures" to ensure the health and safety of its cast and crew members were maintained.

"While it was very cold on set—and participants were prepared for that—any claims of serious injury are untrue," the Netflix representative told IndieWire.

Another complaint alleges that Squid Game: The Challenge was rigged. According to Rolling Stone, numerous contestants in the reality show, some of which were Instagram and TikTok influencers, were scripted to advance to the next round of the competition regardless of whether or not they completed a game so as to artificially increase the intrigue for on-screen storylines.

"The funny thing is, equality and fairness was the main theme of the original Squid Game," one former competitor told Rolling Stone.

In an incident three former contestants call the "38-second massacre," a bunch of contestants had their blood squib packs go off and were simultaneously eliminated from the reality show. According to the contestants, the show's producers eliminated them despite their having successfully completed a game with time to spare while they were reviewing the round's drone-shot footage.

"Instead of Squid Game, [they] are calling it 'Rigged Game.' Instead of Netflix, they're calling it 'Net Fix,' because it was clearly obvious," another former player told Rolling Stone.

Kotaku reached out to Netflix for comment but did not receive a reply by the time of publication.

Read More: 12 Things To Check Out After You've Binged Squid Game

While fans scratched their head at how creating a real-life Squid Game ignored the show's core theme about how desperate people suffering under a capitalistic society for the amusement of the more fortunate is…bad, series director Hwang Dong-hyuk came out in support of the show during a backstage interview at the 2022 Emmys.

"I think that even though our show does carry quite a heavy message—and I know that there are some concerns of taking that message and creating it into a reality show with a cash prize. However, I feel like when you take things too seriously, that's really not the best way to go for the entertainment industry," Dong-hyuk said. "It doesn't really set a great precedent.".

The Netflix show's release spawned a bunch of copycats, most notably a knock-off video game and YouTuber MrBeast's real-life version of the show's death games (minus the gruesome deaths) where 456 people compete against each other to win $456,000.

A second season of Squid Game has been confirmed by Netflix but doesn't have an official release date.