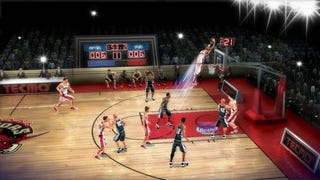 Looks like we spoke too soon. Right after we posted this week's Xbox Live Arcade offering, Tecmo slips out a press release announcing a Wednesday release for arcade baller NBA Unrivaled.
Announced back in June of this year, NBA Unrivaled is Tecmo's entry into the basketball video game market since 1992's Tecmo NBA Basketball, the basketball companion to Tecmo Super Bowl. Like Tecmo NBA, Unrivaled features cut scenes and exaggerated special moves, making it more NBA Jam and less NBA Live.
Unlike the game from 1992, however, NBA Unrivalled features all 30 NBA teams with top players from the latest rosters, full 5-on-5 arcade gameplay, and full 1080P HD support.
NBA Unrivaled drops on Wednesday on the Xbox Live Arcade in North America, Japan, and Europe, with a PlayStation Network version coming in the near future.