NBA 2K11 will feature 50 achievements, only one of them concerns a feat with a specific player in a standard game. It just so happens to involve the cover athlete for rival NBA Elite 11.
"G Performance," a cheevo that's an apparent nod to in-game sponsor Gatorade, gives you 20 Gamerscore if you score 48 points with Oklahoma City's Kevin Durant. Why that guy? He's the cover rep for NBA Elite 11. Why that figure? Because his real-life career high is 47.
In a rivalry that's walked - and sometimes stumbled - on the line between digging at the other guy and not acknowledging him, I tip my cap to 2K Sports. This is their baby; they're very confident in it (ESPN's already calling it the SGOTY not even a week into the demo) and it is still fargin war between them and EA Sports.
G/O Media may get a commission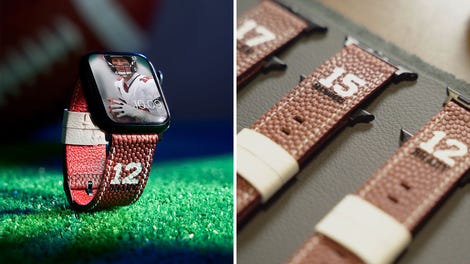 Official NFL PRODUCTS
Official NFL Apple Watch Bands
Here's the full achievement set, courtesy of Operation Sports. There are 24 20-point achievements, 13 15-point achievements, six 25-point achievements, three each for 30 and 10 points, and a 50-point achievement, for a total of 995 Gamerscore. The PS3 trophy breakdown is not yet known.
•The Whole Enchilada (50)
Earn every achievement in NBA 2K11

•The Big Day (15)
Get drafted in the 1st round of the NBA draft in My Player mode

•Complete the Circuit (15)
Complete the Summer Circuit and make an NBA roster in My Player Mode.

•Check! (15)
Complete all 3 in-game tasks in My Player mode

•Keep Your Friends Close (15)
Win a My Player Pick-Up Game

•My Air (15)
Create your own signature Air Jordans

•My Player of the Game (20)
Be named Player of the Game (in an NBA game) in My Player mode

•My Every Day Player (20)
Become a starter in the NBA in My Player Mode

•My Rookie of the Year (20)
Win the NBA Rookie of the Year award in My Player mode

•My Big Eight-O (20)
Earn an 80 overall rating in My Player mode

•My All-Star (25)
Be named an NBA All-Star in My Player mode

•My MVP (30)
Win the NBA MVP award in My Player mode

•Buzzer Beater (20)
Make a game winning shot with no time left on the clock

•Trip-Dub (20)
Record a triple double with any player

•Dub-Dub (20)
Record two double doubles with any teammates in the same game

•Five by Five (20)
Record 5 or more in 5 different stats with any player

•Artillery (20)
Make 15 or more 3-pointers with any team

•Block Party (20)
Record 10 or more blocks with any team

•Grand Theft (20)
Record 10 or more steals with any team

•Swat and Swipe (20)
Record at least 5 blocks and 5 steals with any team

•Smothering (20)
Hold the opposing teams FG% below 40% with any team

•Giveth and Taketh Away (20)
Record 10 or more rebounds and assists with any player

•Hold the Fat Lady (20)
Start the 4th period losing by 10 or more points and win the game with any team

•Wire to Wire (20)
Do not allow your opponent to lead the game at any point with any team

•4-Point Line (20)
Pull off a successful 4-point play with any player

•Not Over Yet (20)
Make a 3-point shot at the end of regulation to send the game into overtime

•The Closer (20)
Hold the opposing team to zero points in the final two minutes of the game

•G Performance (20)
Score at least 48 points with Kevin Durant to set a new career high

•G Dominance (25)
Win by at least 50 points with any team

•G Recovery (10)
Play an entire game using manual substitutions

•Air Apparent (25)
Unlock all 40 Air Jordans

•Another Day, Another Win (20)
Win 5 NBA Today matchups

•Live the Dream (25)
Complete all of the Jordan Moments challenges

•Streaking (25)
Win 5 games in a row in The Association mode (playing all 5 games)

•Home Court (25)
Earn the NBAs best record in The Association mode (at least 30 games played)

•Ticker Tape (30)
Win an NBA Championship in The Association mode (playing every playoff game)

•Sprite Slam Dunk Showdown (20)
Beat LeBron James in the Sprite Slam Dunk Showdown

•Top Trey (15)
Win the Sprite Blacktop 3pt Shootout

•Birthday (10)
Create a player

•Hey Mr. DJ (10)
Create a 2K Beats Playlist

•This One Counts (15)
Win one online ranked match

•Back to Back to Back (15)
Win 3 ranked matches in a row

•You're Officially Hot (20)
Win 5 ranked matches in a row

•Lincoln (15)
Win 5 ranked matches total

•Hamilton (20)
Win 10 ranked matches total

•Jackson (30)
Win 20 ranked matches total

•All for One (15)
Win one online crew game

•Teamwork (15)
Win one online pick-up game

•One for All (15)
Earn a positive Teammate Rating in the online Team Mode

•It's Better to Give (15)
Share any file type through 2K Share