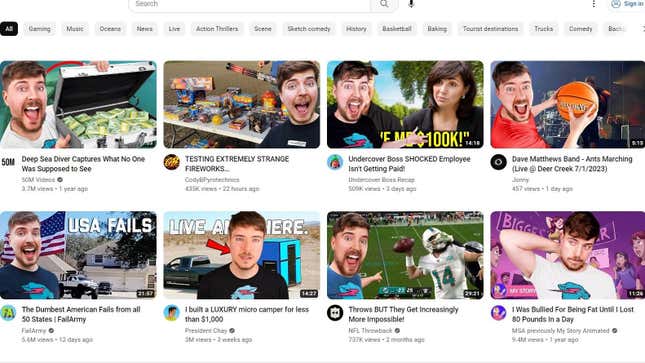 They were so preoccupied with whether or not they could that they didn't stop to think if they should:Someone's gone and made a Google Chrome extension that turns every image on YouTube into the Jimmy "MrBeast" Donaldson thumbnail version. It's called "YouTube MrBeastify" and it's too cursed to ignore.
Baldur's Gate 3's Karlach Actor On Playing The Beloved Barbarian
It was discovered over the weekend and does exactly what it says on the tin, namely: it takes every existing thumbnail on YouTube and adds the mug of one of the most popular content creators to ever grace Google's platform. "Whoever built this. Fair play," tweeted Jay Alto, an internet connoisseur with a whole series of posts about how to grow YouTube thumbnails in a lab to maximize "engagement."
It was apparently created by a fan of YouTuber Unnecessary Inventions who had previously created a website exclusively for adding MrBeast to individual thumbnails. Why stop at one image when you can instantly transform the face of the most popular video sharing platform in existence? "This is indeed a truly unnecessary invention, I love it," wrote YouTube strategist Connor Brogan.
MrBeast has been upfront about the art of the YouTube thumbnail and how he obsesses over it to make more money so he can fund his controversial charitable escapades and chocolate bars. At their simplest, each image shows the object or scene at the center of the video's title accompanied by MrBeast making an exaggerated face.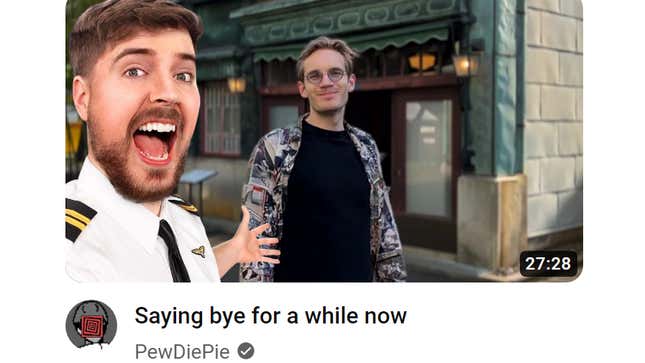 His team puts together multiple variants and swaps them out if a video isn't performing well enough. He even photoshopped hair onto his head for videos published shortly after he'd shaved it to keep the aesthetic recognizably consistent. A picture may be worth a thousand words, but according to MrBeast at least, the right thumbnail is worth $10,000.

I tested YouTube MrBeastify out briefly and the results were indeed incredible: MrBeast gesturing at Rep. Marjorie Taylor Greene (R-Ga.) while she says some bullshit on the House floor, looking down at the floor in disappointment at the news of Shaquille O'Neal's dried up $500,000 pond, or holding up a briefcase full of cash over a video of literally anything.
The Chrome extension reviews speak for themselves. "This is the best thing to ever happen to me," wrote one person. "My life has a meaning now," wrote another. "MrBeast has invaded my life and will not leave me alone," wrote a third. " No matter where I go, from GTA to Linus Tech Tips to music, MrBeast is always watching and always taunting me with free money and free Lamborghinis. I hate this extension, as I have sold my soul to the devil that is mrbeast. 10 stars if possible."
Have fun sickos.