The team of Elder Scrolls fans working on Skywind—the project bringing Morrowind into the series' most modern engine—released their first development video yesterday. It's five breathtaking minutes of the massive effort needed to properly bring a beloved 12-year-old game into present day.
Skywind's development team, which began with about 8 modders two years ago, now numbers 70 volunteers—30 of which are voice actors, with scripters, artists, coders and every other job description you could imagine among them too.
"The team didn't want to just directly import the game to the updated engine, but instead wanted to create something that could be embraced by both Bethesda and the Elder Scrolls community," narrator Daniel Hodge says. That is no small goal. The landscape of Morrowind plopped into the Skyrim engine would be barren and conspicuously undetailed.
Concept artists help lay a clear roadmap for where the project wants to go. Modelers painstakingly render these designs. "Dozens of quests" have already been finished—some of which you may see in the video—but as common sense would tell you, "dozens" is a small fraction of the quests available in this kind of a world (more than 600, actually.)
G/O Media may get a commission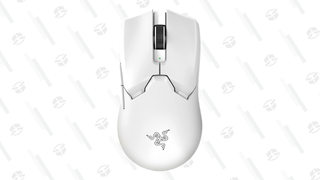 15% Off
Razer Viper V2 HyperSpeed Wireless Gaming Mouse
Pro gaming
ses a focus pro 30k optical sensor for unreal accuracy, is only 59g which puts little-to-no pressure on your wrists and allows for faster response times and longer sessions, has switches that last for 90 million clicks, has an absurdly fast wireless connection, and a battery life of up to 80 hours.
Skywind has a lot of muscle behind it and looks to be as impressive as anything you'll see from a modding community, if not moreso. The Skywind team needs "volunteers of all sorts," including for "simple tasks that anyone can help with," so if the spirit moves you, visit this link. "The more help we get, the faster the final release will come."
Skywind—Official Development Video #1 [YouTube]