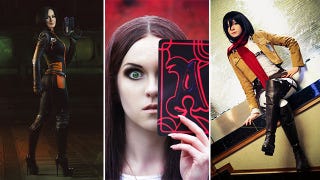 What's in store for this week's cosplay roundup? Well, we've got some Mass Effect. Some Attack on Titan. Some Kiki's Delivery Service (yes!), some Castlevania, some Alice. And of course, it wouldn't be complete without someone dressed as Elizabeth from BioShock Infinite.
---
To see the larger pics in all their glory (or, if they're big enough, so you can save them as wallpaper), click on the "expand" button in the top-left corner.
Fancy Pants is Kotaku's weekly round-up of the best in video game cosplay (costume play), where fans dress up as their favourite characters.
---
BIOSHOCK INFINITE | Cosplayer: Angela Bermudez | Photographer: Kristian M. Rocha

KIKI'S DELIVERY SERVICE | Cosplayers: Mostflogged & 06TATTO| Photographer: Tiffany Chang/LocketHeart
MASS EFFECT | Cosplayer: Hannuki
MASS EFFECT | Cosplayers: Nebulaluben, sumyuna, zihark & Adrian Winters | Photographer: Jesús Clares
CASTLEVANIA | Cosplayers: keruuu & Annachuu| Photographer: vaxzone

AMERICAN MCGEE'S ALICE | Cosplayer: Alice Yuric | Photographer: anabioz361

ATTACK ON TITAN | Cosplayer: TraumaCentreGrrl| Photographer: AilesNoir